Soapbox at Delta Hotels by Marriott | Soap Equals Hope
Thanks to Soapbox and Delta Hotels for inviting me on a media trip to learn more about their partnership!
I have been paying more attention to the ingredients in the products I use and the mission of their companies. I find myself drawn to organizations that have a goal to give back and support others. I also look for natural ingredients in my skincare products, which was why I very excited to get to know Soapbox and learn what they offer.
Soap = Hope
In 2010, Soapbox was founded on the mission to empower consumers to change the world through everyday, quality purchases. Every thoughtfully crafted Soapbox product purchased donates a bar of soap to someone in need either here in the USA or abroad. To date, Soapbox has donated almost 3 million bars of soap to those in need, often pairing hygiene education with them as well. Their naturally derived luxe personal care line includes hair color safe shampoo and conditioner, and nourishing body wash, liquid hand soap and bar soap. All products are vegan, paraben free, cruelty free, EDTA free, silicone free and artificial colorant free. By hand selecting the benefit ingredients to include in their products, Soapbox offers hair and personal care that makes you look great, feel great and smell great. Soapbox products are made in the USA and sold in stores like Target, Walgreens, Rite Aid, Amazon, Meijer, Walmart and many other chain stores across the United States. For more information, visit www.soapboxsoaps.com.
Soapbox at Delta Hotels
Delta Hotels by Marriott announced a new amenity partnership with Soapbox, providing premium bath products to guests worldwide while donating soap to communities in need worldwide. The naturally-derived Soapbox products featured in the guestroom amenity kits including shampoo, conditioner, body wash, lotion, liquid hand soap and bar soap will begin rolling out to all 50 properties within the brand's global portfolio.

"We are very excited and proud to enter into this relationship with Soapbox," said Gregory Durrer, Global Brand Leader of Delta Hotels by Marriott. "Not only are we giving guests a great bath experience with quality products they will love, but we are also making a change in children's lives around the world. It is a win-win."
Why this is important: The collaboration between Delta Hotels and Soapbox will provide an estimated 1.4 million bars of soap to communities in need across the globe in 2018 through Soapbox's buy-one-give-one model. As part of the relationship, each amenity kit will include a unique "Hope Code." Delta Hotels guests can enter the Hope Code found on their individual in-room amenities on Soapbox's website, to see where that particular kit's contribution will be allocated.
My Hope Code helped with a CAN Baltimore Soap Donation according to the website. It is amazing to instantly see the impact that your purchase made. The hand soaps I purchased helped Sundara Soap Recycling – Mumbai and HEEALS Handwashing Training. Not only am I aware of where my purchase went, but now I have a new knowledge of the organizations that Soapbox is helping. One of those organizations, Clean the World in Orlando, recycles hotel toiletries to give back to those who need it. Since I was able to volunteer at Clean the World as part of this event, I saw the entire process first-hand. Knowing that my purchase directly impacts an organization that I have been to and met the people behind, it makes my spending budget for toiletries feel even more valuable. I want my money going to help others, which is why I want to continue to help Soapbox any way that I can.
This was my first interaction with Soapbox, and I can tell you right now that I'm going to be a lifelong consumer. Not only was I impressed with the company behind the brand, I saw a genuine enthusiasm for giving back and helping others when I met with CEO and co-founder Dave Simnick. 
"Soapbox's mission is to empower customers to change the world through everyday, quality purchases," said CEO and co-founder Dave Simnick. "Partners like this ensure we can continue to donate bars of soap to those in need around the world. This is a true collaboration effort and we are thrilled to be able to provide Delta Hotels' guests with high-quality products that give back."
Soapbox Hand Soap at Target

I found Soapbox hand soap in three different scents at my local SuperTarget store. It is cruelty-free and vegan! Both of these scents, Citrus & Peach Rose and Sea Mineral & Blue Iris, smell amazing. I love the sleek packaging and it looks nice in my bathroom and on my kitchen counters.
Learn more about Delta Hotels and Clean the World Orlando in my previous posts, and get to know other influencers and read their experiences with Delta Hotels and Soapbox!
Have you tried Soapbox products yet?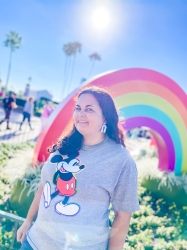 Latest posts by Krystal | Sunny Sweet Days
(see all)