Clean the World: Creating Hygiene Kits for Orlando
As part of a recent trip to learn more about Delta Hotels and Soapbox, we headed to nearby Clean the World to learn how they are making hygiene a priority!
Have you ever wondered what some hotels do with their toiletries after each guest's stay? Sometimes the toiletries are not even used, but they would be disposed of normally. Or, what about used bars of soap? I never thought about all of that waste, especially in an area like Orlando where there are over 100,000 hotel rooms, and I'm so grateful to see that Clean the World is not only responsibly recycling and reusing but they are spreading a message of hygiene across the globe.
Since pneumonia and diarrheal disease are two of the leading causes of death among children under five years old, Clean the World is making a big impact on access to soap and hygiene education! More than two million bars of partially used hotel soap are thrown away every day in America, and this organization has found a way to combine recycling and hygiene education to save lives. Yes, you CAN recycle used soap! I watched the entire process, and I was blown away by the results.
Clean the World accomplishes its mission by collecting, recycling, and distributing discarded soap and plastic amenity bottles from participating hospitality partners. We recycle guest room hygiene items at operations centers in Orlando, Las Vegas, and Hong Kong, and distribute them for humanitarian purposes with partnering non-profit organizations. The items are distributed domestically and to children and families in communities around the world.
The soap has been tested by SGS North America, a Florida state-certified testing facility. SGS purposely infects soap, which is then run through the standard Clean the World recycling process. As a result of the cleansing process, the soap has been given a 100 percent clean bill of health. All pathogens, including listeria monocytogenes, escherichia coli, pseudomonas aerogenes, salmonella typhymurium, and staphylococcus aureus, are successfully removed from the soap by this process.
We stopped by to volunteer at Clean the World, and we prepared hygiene kits that were to be distributed to Orlando area homeless. There is an entire process of this organization and how they receive, sort, recycle and give. As hotel toiletries are received, they are sorted. Soap is recycled. Any toiletries that cannot be used are recycled.
We filled each bag with two bars of recycled soap and donated hotel toiletries like shampoo, conditioner, and lotion. Each bag was also packed with a handwritten note.
Since I lived in Orlando for a few years, I found it incredibly touching to know that I was a part of something that was giving back to the community. I also was impressed with the hotels who donate their used toiletries to this organization in the area. There were many Disney hotels that participate as well.
Since 2009, Clean the World has distributed more than 41 million bars of soap in 118 countries.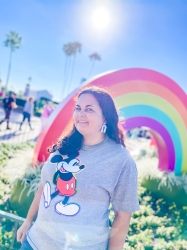 Latest posts by Krystal | Sunny Sweet Days
(see all)