Summer Bucket List Printable | Summer Family Travel
This is a sponsored conversation written by me on behalf of Banana Boat®. The opinions and text are all mine.
If you are planning a summer outing, be sure to pack sunscreen! Since I live in Florida, I love taking my kiddo to the local theme parks. You would be surprised at how many tourists (and hey, even locals!) forget to slather on the sunscreen before a long day at a theme park. I've partnered with Banana Boat® to share how they keep our skin protected during long days at Disney theme parks, and I wanted to give you a few ideas for summer fun!
We found Banana Boat® Kids Sport Sunscreen at Walmart, and you can save when you shop! Earn cash back with the $1 off Ibotta rebate from April 4, 2018 through May 30, 2018. You can find the Ibotta offer here.This app is one of my favorites for earning extra "fun" money by shopping for items I already need anyway.
We like the Kids Sport sunscreen since it has 50+ SPF and provides safe and effective broad spectrum UVA and UVB protection. It is a must have for our long theme park trips, backyard BBQs, or even a day at the water park. It is both tear-free AND sting-free which is important for our little guy. It's mild and gentle enough for kids' sensitive skin, and it is light-weight.
It's perfect for the whole family which is why it is a go-to item for us when we're spending time outside. It absorbs quickly so it doesn't run into your eyes, and it is water-resistant up to 80 minutes.
Need more Banana Boat inspiration? Follow along on the Banana Boat Summer Fun Pinterest board and find more fun summer ideas! Also, stop by your local Walmart and try Banana Boat's new line, Banana Boat® Simply Protect™ which contains 25% fewer ingredients in a lightweight formula!
Ready to plan your summer adventures? Use these printables to inspire you! Here are a few of our favorite summer bucket list activities.
Summer Bucket List Ideas
Visit a theme park. Look for local resident specials to make this a budget-friendly activity.
Hit up a zoo. Most of the time it is more affordable to become a "member" of the zoo for more savings.
Take photos at a park. Update your family photos with a few sunset shots at a local park.
Go snorkeling. This is something we have meaning to try together as family for a long time.
Visit an aquarium. Check your local websites to see if there are any coupons or specials to make this an affordable activity.
Make your own ice cream. Did you know you can make your own ice cream without a machine? Give it a shot!
Go geocaching. Using a special app on your phone, look for special clues and treasures on this scavenger hunt!
Look for painted rocks. This is a new "thing" for us, and people are hiding special painted rocks to brighten your day. See if you can find any in your town or city!
Cook dinner together. With our son home without any homework, we are going to work on cooking together!
Free Summer Printables
I love how this one is set up so that you can structure your summer days. Without the routine of going to school every day, our basic activities can get lost! Plan out your breakfast, lunch, and dinner along with your morning and afternoon activities. Jot down what bedtime story you will share too. This will make a fun addition to your summer scrapbooks.
Summer Vacation Coupon PDF (use this one to write down what your child did and what they earned!)
This is the year my son is learning all about chores and what they can do for our family. He is old enough to earn money to buy his own toys or treats, and this coupon can help facilitate that. A few sample summer chores we have are cleaning his room, organizing his books, and making sure that he puts everything back in its original place.
A few items on our summer bucket list include a trip to Disney, a weekend at the beach, and we hope to get season passes to the zoo or aquarium! We also have a shark convention in July followed by a few events at the local park. At every step of the way, Banana Boat® will be there to keep our skin protected!
Summer Travel Tips
How are you getting ready for summer? What's your favorite treat to cool down? Any fun activities planned?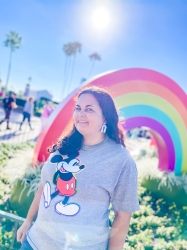 Latest posts by Krystal | Sunny Sweet Days
(see all)