8 Simple Air Fryer Recipes for Easy Under 30 Minutes Savory Snacks
The air fryer is the newest kitchen gadget that everyone loves. It's amazing how much food you can prepare with this useful countertop appliance, whether it's sweets, snacks, or even complete dinners. We've included 8 simple air fryer recipes to give you a delectable pick-me-up if you currently own one or have thought about buying one to test out easy and risk-free meals.
Ramen Ddang
What could be better than Korean food to go with your binge-watching of K-dramas? Ramen Ddang (also known as Ramyeon-Ddang) is a popular snack that's simple to make and was included in the Netflix series Squid Game. It consists of broken-up, uncooked instant noodles that have been powdered with ramen seasoning.
Audiences were captivated by the clever notion of transforming a dinner into an equally delectable snack, and many others have subsequently benefited from it. Making one in an air fryer requires no time at all, even though we Malaysians are accustomed to its crispy and savory texture, which is evocative of the cherished childhood treat Mamee Monster. Additionally, you'll have the choice of choosing your preferred ramen brand and transforming it into a straightforward yet delicious snack.
Ingredients (serves two):
two ramen noodle packages.
integrated into the ramen box are to be seasonings.
Preparation steps:
# 1 Pick your favorite ramen noodle scent.
# 2 The ramen's included seasoning packets should be set away.
# 3 While breaking the ramen, avoid mashing it too finely.
# 4 Throw down the ramen noodles in your air fryer after lining it with baking paper.
# 5 Varying the size of the noodles, air fry the ramen for 3-5 minutes on one side at 170°C.
# 6 Toss the ramen chunks and bake for an additional five minutes at 180°C.
# 7 Retake steps # 5 and # 6 and flip the ramen once more.
# 8 Let the ramen pieces cool once they were thoroughly fried on both sides.
# 9 To finish, add the seasonings and ramen bits to a plastic or paper bag and thoroughly shake it.
Creamy Air-fried Mushrooms
The creamy air-fried mushrooms in question are the definition of a snack that's so delicious you won't remember how healthy it is. They are also healthy, luxurious, and easy to cook. You can make a meaty, crunchy boat of delectable goodness with just a few large mushrooms and some spices that you presumably have on hand in your pantry.
Ingredients (makes 12 creamy mushrooms):
removed stems from 12 portobello or shiitake mushrooms.
Japanese mayo, 5 tbsp.
lemon juice, 1 tbsp.
soy sauce, 1.5 tbsp.
a dash of red chili powder, if desired
Powder seaweed is optional.
Preparation steps:
# 1 The mushrooms should be placed upside-down like a boat once the stems are removed.
# 2 In a bowl, combine the soy sauce, lemon juice, red chili powder, and Japanese mayo.
# 3 Place the mushroom on top of the creamy mixture. As a finishing touch, add more red chili to each mushroom if you prefer a kick that is more intense.
# 4 The mushrooms are air-fried for five minutes at 200°C.
# 5 Add a last finishing touch of seaweed powder before serving.
Lemang Bakar
Lemang is typically prepared over an open flame within a bamboo stalk, therefore, you probably never imagined seeing it prepared in an air fryer. This recipe will demonstrate how beautifully they complement one another and how incredibly simple it is to make. Although there are countless air fryer recipes for fast foods like nuggets and fries, preparing a traditional Lemang Bakar (also known as sticky rice) in your air fryer may completely change the way you prepare food.
Try the recipe below if you want to enjoy a mouthwatering serving of lemang elsewhere from the Raya celebrations.
Ingredients (serves four):
glutinous rice, 2 cups (400g).
coconut milk, 2 cups (480g).
water, ½ cup (118g).
salt, 1 tsp.
pandan leaves.
paper cups.
Preparation steps:
# 1 The sticky rice should be rinsed before soaking for at least two hours.
# 2 After soaking the sticky rice in water, soak it in coconut milk. After adding salt, simmer for 30 minutes.
# 3 Line the paper cups with pandan leaves in the meantime.
# 4 Set the air fryer to 180 degrees Celsius.
# 5 Fill the paper cups with the glutinous rice. To ensure that the grains of glutinous rice are thoroughly soaked, add some coconut milk to each cup.
# 6 After 30 minutes of air frying at 180°C, reduce the thermostat to 160°C and bake the items for an additional 10 minutes.
# 7 After they are finished, turn off the temperature and give them a 10-minute rest inside the air fryer before removing them.
# 8 Lemang Bakar is prepared for serving when the paper cups are removed.
Rice Paper Dumplings
These rice paper dumplings resemble rectangular pouches filled with savory treats that are as filling as you could hope for a delicious snack to be. This tasty snack will undoubtedly become a favorite, especially since you can make a large quantity of them in just a few short minutes. It has a pleasing crunch from the brittle rice papers on the outer yet with a chewy pull.
Ingredients (makes 8-9 dumplings):
rice papers.
tuna, 1 can.
firm tofu, 1 block.
2 eggs.
3 small cabbages, shredded.
starch, 3 tbsp.
sesame oil, 1 tbsp.
soy sauce, 1 tbsp.
minced garlic, ½ tbsp.
pinch of pepper and salt.
Preparation steps:
# 1 The cabbage should be cut into fine pieces.
# 2 The tofu should be dry before being mashed with a knife.
# 3 Put the shredded cabbage, mashed tofu, and tuna can in a bowl and combine it all together with the eggs, seasonings, and starch.
# 4 Place a piece of rice paper on a wet or oiled surface after briefly dipping it in cold water.
# 5 In the center of the sheet, create a rectangle by placing a spoonful of the filling mixture there. Roll the rice paper sheet until the end, folding both sides and the top over to cover the filling. You'll be left with a pocket that is either square or rectangular.
# 6 Place the pocket (from # 5) in the center of a second rice paper sheet after dipping it in the cold water and setting it down on a damp surface. In order to double-wrap the filling, fold the pocket in half from the sides first.
# 7 Before putting the dumplings in the air fryer's container, they need to be oiled.
# 8 They are given a 15-minute air fry at 200 °C. Don't forget to switch over the dumplings after halfway through cooking.
Kebab Skewers
Kebab skewers are a tasty snack that combines soft meat with crisp vegetables, similar to a balanced diet on a stick. Let's face it, if you were to cook them on an outdoor charcoal grill, it might be a nuisance. You'll be glad to learn that baking items in an air fryer is also a simple option for sizzling and charring foods to a high standard while using less oil.
The recipe is so easy to make that it might become your new go-to snack food.
Ingredients (makes about seven skewers):
450g of small-chunky chicken breast (skinless and boneless).
olive oil, 1 tbsp.
soy sauce, 1 tbsp.
garlic powder, 1 tsp.
ground ginger, 1 tsp.
chili powder, 1 tsp.
honey, 1 tbsp.
3 bell pepper, 1 of each color (red, green, and yellow).
1 zucchini.
1 chunk-cut red onion.
skewers.
Preparation steps:
# 1 Cut up the chicken breast and blend it with the soy sauce, honey, ginger, garlic, honey, and chili powder in a small cup/bowl.
# 2 Toss the chicken cubes with the sauce to coat. Give them at least one hour, preferably all night, to marinate.
# 3 Lay out the vegetables after cutting them into pieces.
# 4 A few pieces of each vegetable and the chicken should be skewered in succession. Continue doing this until each skewer is packed, leaving approximately an inch (2.5 cm) at either end.
# 5 Set the air fryer to 180°C for frying.
# 6 Skewers are to be put in the air fryer's container after coating them with some of the remaining marinade sauce.
# 7 The skewers are air-fried for 10 minutes at 180°C, turning them over halfway through.
Mini-Quiche
If you don't have much time for breakfast, this air fryer little quiche is the best option. It's rather impressive to witness an air fryer produce an incredibly fluffy and creamy quiche with few ingredients and almost no preparation time. With this filling and simple breakfast meal, you won't have any excuse to miss breakfast any longer.
Ingredients (makes one small quiche):
1 egg.
heavy cream, 3-4 tbsp.
broccoli, 5 florets.
cheddar (finely grated) cheese, 1 tbsp.
Preparation steps:
# 1 The egg and cream are whisked together.
# 2 Grease a small ceramic dish or a little quiche pan lightly.
# 3 Place the broccoli florets in the pan or dish first and then pour the egg mixture on top of them.
# 4 Cheese is sprinkled on top of the dish.
# 5 10 minutes of air frying at 160 °C.
Wonton Mozzarella Sticks
A dish of delicious mozzarella sticks will be ready in 10 minutes if you mix some cheese sticks with wonton wrappers. The addictive crispy coating of conventional cheese sticks is achieved by coating them in breadcrumbs and deep-frying them in hot oil, but their air-fried cousins are just as tasty. Without deep frying, this recipe guarantees the crunch and stretch of melted cheese that you desire in a delicious mozzarella stick.
You only need two real components to get started.
Ingredients (makes 12 sticks):
mozzarella cheese.
wonton wrappers.
seasoning of choice (or a pinch of salt).
Preparation steps:
# 1 Put a piece of mozzarella cheese next to the wonton wrapper's bottom corner. Roll halfway, then delicately fold the sides over the cheese and toward the center.
# 2 Draw a line along the edges of the wrapper's edges with a wet finger. With the rest of the wrapping, enclose the mozzarella stick. Continue the process with the mozzarella and wraps leftovers.
# 3 Sprinkle salt or seasoning on the sticks before placing them in the baking paper-lined air fryer basket.
# 4 For five minutes, air fried at 180°C. After turning the sticks over, add extra seasonings, and bake for an additional three minutes.
Malaysian Fried Chicken
What could be better than fried chicken that is golden brown, has deliciously crispy skin, and is tender on the inside? Of course, you want one that doesn't make you feel guilty or bloated afterward.
Not having to follow your healthy diet shouldn't be a concern. Without the deluge of oil, this groundbreaking air fryer fried chicken recipe is going to provide you with the juicy, flavorful insides and incredibly crispy skin of a perfect fried chicken. Furthermore, it can be finished in less than 30 minutes.
Ingredients (serves two):
2 entire, skin-on chicken legs.
garlic (minced), 2 cloves.
Ginger (grated), 1 small piece.
2 lemongrass
curry powder, 2 tbsp.
turmeric powder, ½ tsp.
pinch of pepper and salt.
Preparation steps:
# 1 To make a smooth paste, combine the minced garlic, grated ginger, lemongrass, and the remaining spice ingredients in a small bowl.
# 2 After pat drying, put the chicken in a tray. To guarantee consistent cooking and to let the marinade penetrate the chicken legs, cut deep slits in them.
# 3 The paste should be applied uniformly to the chicken legs. Let the marinade sit for a minimum of two hours or, better yet, overnight.
# 4 Set the air fryer's temperature to 200°C.
# 5 Place the chicken legs, skin side up, in the air fryer basket after lining the basket with baking paper. Chicken is brushed with any remaining marinade.
# 6 After 10 to 12 minutes of air frying at 200°C, reduce the heat to 180°C, and air fry for an additional 5 minutes.
# 7 After turning the chickens over, bake them for an additional 10 minutes.
Simple Air-Frying Recipes
Try these simple air fryer recipes whenever you want a tasty snack but don't want to dirty your kitchen with oil or skip getting only the freshest produce, which is frequently sourced locally, that will be delivered by the best organic meal delivery services. We guarantee you'll become addicted, and you won't even require that you spend a lot of time making some homemade golden deliciousness because these delicious snacks may all be prepared in under 30 minutes.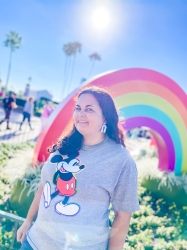 Latest posts by Krystal | Sunny Sweet Days
(see all)