Should You Buy a Custom Blanket?
Custom blankets have been around for decades and are available from numerous providers, from large companies to small, locally owned businesses. That said, many people are already aware of what custom blankets are. They're quite different from your average blanket, given that custom blankets have a large area of a printed image or several images on them that can be personalized to one's liking.
While they aren't a new concept, they're still underappreciated as both a practical item and as a decorative feature. Most people have non-customized blankets in their homes, usually bought in store or online, from knitted throw blankets to fleece bed blankets. Custom blankets still aren't that popular, most likely because they are usually perceived as décor features without much practical value.
But nothing could be further from the truth! Custom blankets truly belong in every home. They can offer sentimental value, help showcase memories, represent one's personality, or even tell a story. What is more, custom blankets make the perfect gift as they are one-of-a-kind and sure to warm anyone's spirits (and body). And last but not least they are practical too – warm and cuddly, perfect for chilly evenings and nights.
So What Really is a Custom Blanket?
Custom blankets, as the name implies, are customizable. The buyer of the blanket has the opportunity to personalize the aesthetics of the blanket. Buyers can play around with different photographs, graphics, text, and/or color schemes until they feel the custom blanket is perfect for themselves or their loved ones.
The beauty of getting to customize a blanket is that there is nothing else like it on the market. When gifting a custom blanket for a loved one, you can be completely sure that they don't already have the item since customized blankets are one-of-a-kind items.
Not to mention, if you are wanting a particular color or graphic, you can make it happen quite easily by customizing a blanket rather than by hunting for hours in the store for the right blanket. It can save a lot of time and energy in the long run.
How to Use Photo Blankets?
There are many different ways custom or photo blankets can be used. Your options are virtually endless, and you can get as creative as you'd like.
These blankets can be used as a standard blanket or as a decorative throw. They can look stunning draped on a couch armrest, over the back of a chair, or on the headboard or footboard of a bed. This way, they offer an aesthetic component while still being an arm's reach away if one gets cold.
Others might wish to add a photo blanket as a top blanket of their kid's bed to add flair to their bedroom and extra warmth for bedtime. A custom blanket can also be neatly folded and placed at the bottom of a bed to create a cozy, layered look. Some might even like to have a customized blanket for their baby.
Apart from using it for their own use, one might wish to give a photo blanket as a gift. For instance, new parents might appreciate receiving a custom blanket with their baby's name on it. Likewise, one's partner might love a blanket customized with photos taken throughout them and their partner's relationship.
The great thing about giving a custom photo blanket as a gift is that it can be made and given for so many different occasions. You can create a blanket that's romantic, friendly, casual, playful, funny, you name it. Holidays, birthdays, graduations, anniversaries, or any other occasion can be a perfect moment to give or receive a custom photo blanket.
How to Take Care of Photo Blankets?
Taking good care of a custom photo blanket to ensure their long performance is very easy. Gently spot cleaning or running it through the washing machine on a mild cycle, ideally on a low soil level, using a soothing detergent is key to a clean, well-maintained photo blanket. Aim to only wash when absolutely necessary.
As a fair warning, refrain from washing your photo blanket with harsh detergent or in a washing machine with a hot water temperature or a fast spin cycle setting. It's best to wash a custom blanket with like colors and to refrain from washing it with sharp objects, like zippered garments or items with spikes, rhinestones, or gems.
Likewise, avoid placing your photo blanket in the hot setting when drying it in the dryer. The warm or medium setting should be plentiful to thoroughly and quickly dry your blanket. And to avoid color fading, it's a good idea to not dry your photo blanket on a clothing rack in direct sunlight.
Avoiding harsh washes and drying sessions can ensure a custom blanket remains soft, undamaged, and doesn't lose irreversible vibrancy of its colors overtime. With proper care, photo blankets can last a very long time and remain in good condition for years to come.
All in All, Are Custom Blankets a Good Choice?
While they can cost a bit more than non-customizable blankets of the same size and material, you might be wondering, are they worth the hype? It's true; custom blankets are worth the price. Moreover, some reliable discount companies – for example, CANVASDISCOUNT.com, – offer high-quality photo blankets at very affordable prices.
Being customizable, you have endless ways you can modify the appearance of your blanket to ensure it matches your home and your personal tastes. This is especially great if you have a very particular theme or unusual colors used in your interior design. You can count on a custom blanket to offer everything you'd ever want or need in a blanket in terms of aesthetics.
If making a custom blanket for a loved one, you will find comfort knowing you can craft them the perfect blanket you know they will love. You'll never feel hesitant when customizing a blanket for a friend or family member given that you have the chance to use graphics or images on it that you know they'll approve of. There's no better sense of relief than having this confidence!
Are you interested in creating a custom blanket for yourself or somebody else? Head on over to CAVASDISCOUNT.com to get started. The process is easier than you think!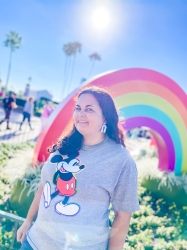 Latest posts by Krystal | Sunny Sweet Days
(see all)