Seafood Sunday Dinner Recipes
Do you gather the family together each and every Sunday for a hearty meal? Many moons ago, before we had our son, my husband and I religiously enjoyed Seafood Sundays. We made it a point to go out, enjoy the sunset, and enjoy grouper sandwiches or peel and eat shrimp. Over time we seemed to have forgotten about this tradition, but we do regularly enjoy seafood throughout the week.
Scallops are my favorite, but I do enjoy baked fish every now and then. I also love shrimp cooked in Old Bay or sauteed with garlic. Some of the recipes I found online were combinations I had never heard of before (cilantro, tequila, AND shrimp? Sign me up!).
Want some more inspiration to throw your own Sunday Dinner? Rachael Ray has some of my favorite dining and serving ware, and I wish I could upgrade my dining room table to a large farmhouse style. Read on to see a stylish collage to serve a Sunday Dinner in style.
Rachael Ray Ikat 16-Piece Dinnerware Set // Rachael Ray 10 Piece Cookware Set
Rachael Ray Bubble & Brown 17-in. Dish // Citrus Cocktails Dress from ModClothLucius Designs 'New York City Map Heart' Wall Art Textured Blue Wine Server // Sumner Dining Table  by West Elm
What's your favorite seafood dinner recipe? You will love this Spicy Cajun Crispy Shrimp! Pair it with these Pan Roasted Florida Vegetables!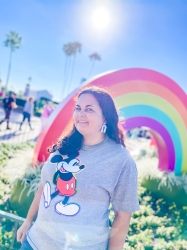 Latest posts by Krystal | Sunny Sweet Days
(see all)