Fall Coffee + Tea: Shop Amazon for Pumpkin Coffee
It's the most wonderful time of the year. From fall hues to autumn adventures, the weather in Florida is now enjoyable again. We can still go to the beach, of course, but something changes in the air this season. It's truly magical! And, no, I'm not pumpkin spice's BIGGEST fan… but I do enjoy sampling new coffees and teas to celebrate fall. Luckily I can find some great options on Amazon! They have fall flavored coffees and teas, and I have the pricing on them for you. Stock up your coffee bar with some of these options, and keep reading for more coffee inspiration! Your next pumpkin coffee or pumpkin spice latte can be made at home!
Fall Coffee and Tea
Coffee
1. Gloria Jean's Buttered Toffee Coffee K-Cups, 18 ct  
2. Green Mountain Coffee Pumpkin Spice K-Cups, 24 ct  
3. The Bean Co. Pumpkin Spice Ground Coffee, 16 oz – 2 pk  
4. The Coffee Fool Pumpkin Spice Drip Grind Coffee, 12 oz  
5. Grove Square Pumpkin Spice Cappuccino K-Cups, 24 ct  

6. Caza Trail Pumpkin Spice Coffee K-Cups, 24 ct  
7. Assorted Fall Flavored K-Cups, 20 ct  
8. Christopher Bean Apple Cinnamon Ground Coffee, 12 oz  
9. Grove Square Caramel Cappuccino K-Cups, 24 ct  
10. Cafe Escapes Caramel K-Cups, 24 ct  
Tea
11. Milford T Loose Black Tea, 55 servings  
12. Lipton Vanilla Caramel Black Tea Pyramids, 20 ct  
13. Bigelow Vanilla Caramel Black Tea Bags, 20 ct – 6 pk  
14. Yogi Soothing Caramel Bedtime Herbal Tea Bags, 16 ct  
15. The Republic of Tea Caramel Vanilla Tea Bags, 50 ct  
16. Twinings Pumpkin Spice Chai Tea Bags, 20 ct  
17. Celestial Seasonings Sweet Harvest Pumpkin Black Tea Bags, 20 ct  
18. Zhena's Gypsy Tea Vanilla Pumpkin Spice Herbal Tea Bags, 22 ct  
19. Twinings Pumpkin Spice Chai Tea K-Cups, 24 ct  
20. Greenfield Chocolate Toffee Black Tea Bags, 25 ct  
How do you enjoy your coffee? Do you like fall coffees and teas?
—
Want more coffee inspiration? Try one of these recipes:
Peppermint Mocha Coffee Creamer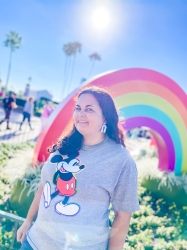 Latest posts by Krystal | Sunny Sweet Days
(see all)