Project Planner Printables: Iced Coffee and Plan!
This post has been sponsored by Danone US, LLC. All thoughts and opinions are my own.
Who is ready to get into a routine?! I know I am. We have been staying home and doing ALL of the things, but it is time to make our days a little more productive. I sometimes flounder when I don't know what to do, so it is crucial for me to start my day off right. With a little planning, an iced coffee, and some "me" time, I can find ways to enjoy every day. Keep reading to learn more about new International Delight® OREO® Iced Coffee Cans and International Delight® Caramel Macchiato Iced Coffee Cans from Dollar General!
As a planner girl, I go a little wild for printed planners. With a binder, a few colorful pens, and some printables, I love to get organized. Since I have been a little all over the place with distance learning, remote work, and managing this website, I need a little reset. My absolute favorite way to start my day is with an iced coffee. I never drink hot coffee (even in the winter!), and I prefer a LOT of creamer in my morning cup of joe. When I saw International Delight Iced Coffee Cans, I knew this would be a fast favorite!
Not only do I prefer iced coffee, but I do prefer drinks in cans. They always feel MUCH colder. These International Delight® Iced Coffee Cans have real cream, milk, and sugar. They are easy to take on the go (weekend errands, anyone?!), and since I usually stop at Dollar General to stock up on affordable essentials… they are easy to find too! You can find them where they sell canned beverages. 
Want to save when you shop? Shop now at Dollar General for everyday low prices and to get 3 cans for $6.
Since these are simply delicious, and have the right amount of creaminess to enjoy on the go, you can save money and skip the coffee shop. The taste of OREO® cookies and coffee come together at last for you to enjoy at home. It is just like an expensive latte, but in a can that is easy to enjoy!
But, back to planning. So let's say you have a busy Saturday morning. Head to Dollar General armed with your shopping list and use this daily routine printable to help you get yourself together. No shame in grabbing a pen and paper to keep your thoughts together. I got you! 
I am pretty scatter-brained, so I have a two-step process for you. I encourage you to grab an International Delight® Iced Coffee, curl up in a cozy chair and write it all down. Give yourself a proper brain break, and let's make this season as productive as it can be. I know that I am ready to get moving after conquering a distance learning semester, so these printables are going to be lifesavers for the way that my mind works.
Daily Checklist
Use this checklist to write your shopping list, errands, and keep it all together. This is an easy printable you can use every day to help keep it together. 
Project Planner
My mind thinks in categories. This project planner lets you pick five categories, list your tasks (call them mini goals!), assign someone to it (or yourself!), and mark it off when it's done. Think of using categories like home, work, fitness, or try BIG projects like renovate the kitchen. 
Let me know how you do with a full reset. Take some time for yourself and grab an International Delight® Iced Coffee at Dollar General. It's a quick way to have a delicious iced coffee as you start your day.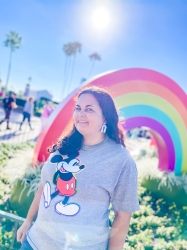 Latest posts by Krystal | Sunny Sweet Days
(see all)