RITZ: Acts of Kindness Ideas to Help
Are you wondering how to make a great impression on your community? The best way would be to show them some kindness. It can be difficult trying to find ways in which you can really make someone's day when they are in their later years or struggling to make it through their day. Between donating, volunteering, and participating in acts of kindness, there are many ways to help your community. Inspired by RITZ, here are some caring ways to uplift the members of your community and give back!
How to Give Back to Your Community
Wanna help with Feeding America? Partner with RITZ and "Pair Up for Good" by inspiring those around you to help. Donations of $0.10 for every RITZ product purchased at Walmart, during the month of March, go to Feeding America! Show us how you inspire others!
For every RITZ product purchased at Walmart and Walmart.com during March, RITZ will donate $0.10, up to $1,000,000 to Feeding America to ensure that families can put food on their tables. An additional $1 donation will be made each time shoppers share the initiative from our Walmart.com brand page!

Stock up on RITZ for your local community food bank, church, or family organization that accepts donations. I donate to a local women's shelter that takes clothes, snacks, and entertainment items like books for their residents. When someone has to move into this women's shelter, they usually come with nothing since they have left a scary situation. I enjoy knowing that my food donations go toward women and children, and that RITZ is something that everyone can snack on.
Acts of Kindness For Your Community
Take them breakfast in bed.
This is a great way to show that you care about their needs. Not only will they appreciate the delicious breakfast, but they will surely love all your effort! You can even purchase flowers or chocolates for their room while you are at it!
Another idea could be to cook dinner for them. This is a great way to show that you're willing to take on the role of caregiver. Do not forget to write them an encouraging note before they eat. You could use RITZ as a snack or side pairing as well.
Clean out their car for them.
The next time you are outside, notice the state of their car windows and clean up the inside or outside of their car as a surprise. You can even offer to take them out for a drive afterward if you'd like.
House sit for them.
This will definitely mean a lot to them as they know that their home is being taken care of while they're gone. If there are no pets or other animals in the house, perhaps you could buy them some groceries or treat the home like your own for a day.
Send letters of encouragement to their homes.
You could even send them on special occasions such as Mother's Day, Father's Day, or an anniversary! This will show that you are thinking about them and that you care about what they are doing with their lives.
Leave a letter of encouragement on their car windshield.
Just make sure that it is not too cold outside! I have done this many times and it has really meant a lot to me. All you need is a piece of paper, a pencil, and some tape. You could even slip in some money as well. This would be great if they are a caregiver for someone else.
Help them around the house.
If you notice that they have been struggling with doing some things around the home, ask if there is anything you could help them with. It would make a great impression on them and it would truly brighten up their day. If you notice that they have been doing a lot of work around the home, perhaps you could do something special for them such as going out to lunch or dinner with them.
Even if you don't know your neighbors very well, these Acts of Kindness Ideas can be used on anyone. Just take your time and think of the best possible way that you could show that person some kindness. Do not feel as though you have to spend a lot of money to make them happy. Even a hand-written note can speak volumes.
Want to inspire your family to help others? Use this printable planner to help with donation ideas and give back to your community.
Use this checklist to help you organize your random acts of kindness ideas for your family. Donate to your community, spread cheer with your neighbors, and involve your family to help find ways to give back to your community. Use these checklists to write shopping lists, share the people you want to help, and track your progress.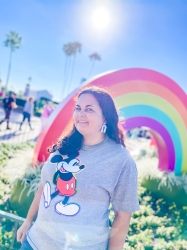 Latest posts by Krystal | Sunny Sweet Days
(see all)