Lifestyle Blog Photography Tips
Every Sunday I will share easy photography tips for new photographers, busy bloggers, or those who just want to learn more about staging and styling photographs. I'll let the experts teach the technical stuff, but I'm teaming up with Mariah Meyer Photography to bring you ways to save money on your gear, easy ideas to take better photos, and simple styling tips. Today's topic is all about lifestyle photography!

Lifestyle photos not only make it easy on the family, but they also make it easy on the photographer. By capturing photos in your subject's natural environment, it keeps kids happy and parents stress free. Here are some tips and tricks to use while shooting a lifestyle session. Whether you need photos for your blog or your photo album, these ideas will help you out!
Keep it natural. Don't force these images. Don't use "poses." Instead, try using "concepts." If you want playful images, tell them to play. These should be all natural photos, nothing should be moved or tweaked to make it work. It's about capturing the family or the individual subject in their natural environment.

Use what is available. Props should not be used here, unless it's already at the client's home. It's a good idea to have your client send you photos of their rooms so that you can be prepared with ideas prior to arriving for the session to make things run smoothly. If you're a friend stepping behind the camera to capture a blogger or if you're a blogger trying to take photos of yourself, don't overly style the shoot. Use what you have. Keep it real!
Interact with the subjects but also get some shots as if you aren't there. There are going to be some poses that you know you want to do, but also be sure to step back. Let the family be themselves and snap away. With small children, they will see you and they will want to look at you. Try to get some with them playing with their parents as well as looking at you with their parents looking at them as if only the child can see you. This creates an interesting and powerful emotion.

Black and white just looks good! Although there are shots that look better in color, most often black and white lifestyle images evoke more emotion versus color images. Use your own judgment. You can switch photos to black and white in the editing process. Capture easy moments such as babies just being themselves in their cribs.

Keep poses simple, as if you are not there, and use the perspective that the room offers. Use this image as an example.
Here is a great example of using windows as backlighting as well as an image that works well in color instead of black and white.
Where is your favorite place to take photos of your kids? Do you have any ideas for lifestyle blog photography?
Follow along for more photography tips on Pinterest.
Follow Krystal's Kitsch's board >> Photography Tips on Pinterest.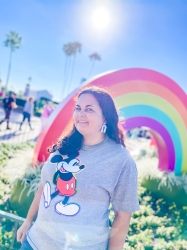 Latest posts by Krystal | Sunny Sweet Days
(see all)