How to Take a Perfect Cell Phone Picture
Whether it's a selfie or a sunset, cell phone photography has come a long way. Many smart phones are equipped to capture your memories easily if you know how to use them! Keep reading to learn how to take the perfect phone picture and how to troubleshoot on your mobile device in case you have any issues!

1. Forget the flash. When using a flash, you are only amplifying imperfections, lines, and blemishes. Instead, forget the flash and opt for natural light. It is more forgiving and offers a natural glow.
2. Try a downward angle. When you take a selfie, you are better off holding the camera at a downward angle. Don't hold it below chin level but more at forehead or above. This instantly slims the face and creates some nice angles.
3. Stabilize your shot. Utilize any stabilizer features your phone may have. This can help you avoid blurry shots and instead get clean and clear ones. Since holding your hand still is hard, a stabilizer is a great idea. You can also use a tripod! I have a smartphone tripod that I use all the time.
4. Stand near a window. The natural light pouring through a window can add a nice effect, soft glow, and really bring out your features. Stand near a window, but not with the window directly behind you where it can drown out the shot.
5. Avoid fluorescent lights. Stop taking selfies in the bathroom, people! The fluorescent light is harsh, and since it is overhead it can also bring out flaws and drain you of coloring.
6. Try some simple editing apps. Simple editing apps such as PicTapGo are great to use for editing your shots. You can crop, add various filters, and get an assortment of gorgeous effects. Plus the app makes sharing your photos on social media a breeze. My favorite photo editing apps are in this post: iPhone photography apps.
7. Give a selfie stick a try. I know, I know… but these are great especially when taking group selfies. They help you get a better angle and the chance to hold the camera at a distance that allows you to get everyone into the shot. Most selfie sticks are now collapsible making them great for travel as well.
8. Look at the lens. The mistake many people make when taking a selfie is looking at their own image on the screen. This can throw your eyes off in the photo. Instead, be sure you are looking at the lens where the shot is being taken from.
9. Try some different looks. Don't want to smile? Try some different looks. A quick glance to the corner or even a smile with eyes closed is fun. Try some different and out of the box looks to see what shots you can come up with.
10. Keep it clean. Use simple backgrounds or style your own shots to shoot awesome images!
Try these photography tips this holiday to take better pictures of your friends and family. Cherish those special memories!
What's your best photography tip?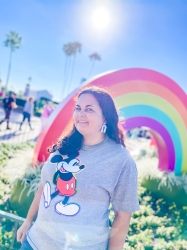 Latest posts by Krystal | Sunny Sweet Days
(see all)