6 Personalized Items That Make Great Gift For The Family
Personalized gifts are always a hit with the family. Here are six great ideas for personalized gifts that will make your loved ones feel extra special. From custom-printed coffee mugs to unique jewelry, there's something for everyone on your list. And don't forget, the best part of giving a personalized gift is seeing the look of joy on the recipient's face. So go ahead and choose something special for your loved ones this holiday season!
A personalized mug for the coffee or tea lover in your life
A personalized mug is a perfect gift for the coffee or tea lover in your life, allowing them to drink in style while adding a warm and personal touch. From classic designs to festive images, you can find just the right mug with patterns, text, and color options that will make them smile from sip to sip. A personalized mug allows you to showcase a favorite photo or memory with one of the most used items in any home. Choose something special as a meaningful way to show loved ones how much you appreciate them!
A custom art piece or print
Art is an authentic, personal way to make any home or space more special and meaningful. Personalized art pieces can be a great gift for the family, as they are sure to make everyone feel connected. A custom art piece or print created with love and care will not only make any house feel like a home but also adds a unique touch that makes the space one of its kind. Whether you choose to have an artist create something original, or you opt for a personalized photo card or artwork, gifting something that speaks directly to their personalities is sure to foster even more cherished memories and conversations with each viewing. You can research the different types of metal sheets used for printing photos on metal or consider canvas art prints with beautiful frames. Whatever you choose, it is sure to be a heartfelt and stylish choice.
A set of coasters
If you're looking to find a one-of-a-kind gift for the whole family, a set of personalized coasters is a perfect choice. A set of beautiful custom coasters will show off an added touch of personality and style in any room. Not only are they attractive, but also practical and thoughtful. The cork backing will keep your furniture safe from dreaded water rings, and each coaster can include an individual message or artwork to suit any family member's preferences. Both adult fans of modern design and little ones alike will be delighted to use these unique gifts – making them a great addition to any home.
A blanket with a special message or design
A thoughtful and creative blanket featuring a special message or design is for any family who values comfort and unity. Picking out the perfect saying or image on this cozy blanket demonstrates an effort in creating a unique, personal token of affection. Whether it's for special occasions or just because, gifting a personalized blanket will show that you put thought and care into giving them something truly special that they can enjoy for years to come. Not only will the recipients love their new one-of-a-kind blanket, but it's also sure to create lasting memories for them as well.
A keychain ornament
A keychain ornament? What a delightful idea! For the family who loves to stay connected, why not commemorate the bond with a heartfelt yet practical memento? Not just any ordinary trinket–this keychain celebrates all of the mutual affection between family members, representing connections that span miles and living rooms alike. It may look like any other keychain from afar, but up close it'll be sure to remind each of them how much they all mean to each other. Give them the gift they won't know they need until it's time to unlock the door again–a meaningful card-carrying reminder of their connection.
A piece of jewelry with a birthstone
Jewelry is a beloved staple of any wardrobe, so what better way to give the family something special than a piece of jewelry that can be personalized for each one? A necklace or bracelet featuring birthstones is a timeless and thoughtful gift that shows just how much you care. It's sure to become an instant hit with the whole family—especially as future birthdays and holidays approach! As your loved ones admire their birthstone design, they'll remember the meaningful thought you put behind each unique piece.
Whether it's for a mother's birthday or a grandparent's anniversary, personalized gifts are sure to be appreciated. No matter what they're celebrating, taking the time to customize a gift for someone shows them how much you care. So this year skip the generic store-bought presents and put that extra effort into finding something truly meaningful – after all, that's what's always most appreciated in the end.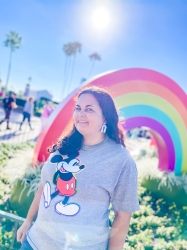 Latest posts by Krystal | Sunny Sweet Days
(see all)