How to Create the Perfect Work at Home Space
No more sitting on the couch with your laptop on your lap or even at the kitchen table! It's time to refresh and revamp your work at home space. While you might not work at home, it still is nice to have a dedicated area to sit and pay bills, menu plan, clip coupons, or even blog. If you do work at home, you'll know that these tips are even MORE valuable! It is so crucial to have a serene spot to get things done.
Privacy Is a Big Deal
When you are creating a work at home space for yourself, you will want to focus on privacy. You may consider creating the work at home space up in your garage, attic, or even shed if you can swing it. If you are going to go through the trouble of creating a work from home space, focus on privacy as much as possible. I find it difficult to host meetings even in my dedicated office space due to noise on the street, our dogs, and our toddler! When I record a podcast, I try to do it when no one is home and I place the dogs in another room. When I Periscope, I also try to follow those rules. I ordered a privacy screen from Amazon to provide a clean background for video, and if you don't have a dedicated office space this might help you!
Get Creative
There are no rules when it comes to creating the perfect work at home space. You do not need to go with boring office furniture. Get out there and find office furniture that says "you." Maybe you love old vintage furniture or want to try bright colors. This is your time to shine! Shop for vintage furniture that can help you create the ideal work from home space. Look for appealing items like an area rug, floor lamp, and even a comfy, but stylish office chair.
Make it Functional
What is most exciting about creating a work from home environment for yourself is that you can create it to be functional. You do not have to stick to a basic desk and chair. Just read the reviews and choose furniture that works! My first "fun" office purchase was a beautiful white computer chair, but it was MAJORLY uncomfortable. I have since purchased a blue computer chair, and they both are very comfortable!
Go all out and put up a chalkboard for your ideas and to-dos or make a calendar whiteboard, so you can stay organized. You could consider building organizational shelves or putting together a filing cabinet. Whatever you do, make it functional for you. I've tried several Pinterest-worthy ideas in my own space, and it didn't work. I now keep it simple!
Create an Awesome Atmosphere
Whether you're looking at repainting or adding fresh lighting, both of these are key components in creating an awesome atmosphere for your work at home space. Lighting can be a big deal when it comes to productivity and getting things done. The color of paint you use can be everything, especially when you are recording video or using your work space for photography. I also make sure to have a vibrant rug so it can be used as a photography background in a pinch.
Allow it to Reflect Your Style
Now when it comes to picking out a perfect workspace, it's all about making it reflect your style. A desk plays a key part in this! I used to have a white writing desk that looked cute, but it was not functional for my needs. I now have a beautiful workspace with four shelves and a very wide tabletop. I can now house my iMac, my Macbook, and a printer. The extra counter space was needed, and I knew I needed to use some of my budget to get a desk that really would work for me.
Creating the perfect work at home space will look different to everyone. What is your best home office tip?
[amazon-related-products keywords="office organization"]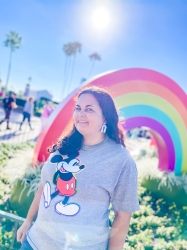 Latest posts by Krystal | Sunny Sweet Days
(see all)