Simple Ways to Take Better Photos of Children
Every Sunday I will share easy photography tips for new photographers, busy bloggers, or those who just want to learn more about staging and styling photographs. I'll let the experts teach the technical stuff, but I'm teaming up with Mariah Meyer Photography to bring you ways to save money on your gear, easy ideas to take better photos, and simple styling tips. Today's topic is all about how to take better photos of your kids. The key? Smiles!
To prepare for photos with little ones, you will want to be sure that you can get some good smiles out of them. There are many things that you can keep on hand for your own personal use as well as items that you can have parents bring along if you are photographing other people's children.

Peek-a-boo and Funny Noises
This is an obvious first choice for a reason! Most babies around three months of age and up will smile when you play peek-a-boo with them. This often works best if you manually focus your camera or are able to have it on a tripod. You can also have someone else behind you doing it so that you can focus on the image. Use your camera as the "blanket" or "hands" that are normally used while playing peek-a-boo and click as soon as you see them smile.
Making funny noises while doing this can also get some smiles out of them.
Colored Fabrics
Babies are attracted to certain colors, mainly red and yellow. Using a piece of fabric in one of these colors can help you get the attention of an infant and will result in a distraction to then get them to smile. Any sort of fabric will do! I have found that bandanas are the easiest to come by.
Stuffed Animals
Puppets are a bit out of date, but stuffed animals that interest a child can work wonders when trying to get smiles. Many children have a favorite character, so ask the parents to bring a stuffed animal to use. You can first try using it to get their attention with it, but if that doesn't give you smiles, then have them give the toy hugs, kisses, or just let them play with it.
Favorite Toy
This one works similar to the stuffed animal tip. Noisy toys work best as attention getters. You can use toys within the photo too.
Pez on Flash Shoe
Did you know that a Pez dispenser toy will fit on almost any flash shoe on cameras? Find a favorite character and attach it to your camera. This will help get their attention and could hopefully result in more smiles! 😉
Tickle for Giggles
One of the top ways to get smiles is to tickle them. Have mom and dad be nearby and playwith them while you photograph only the baby in the frame. Wait patiently until you get those big cheesy giggle grins.
Play Music, Shows, YouTube
When all else fails and the little one just isn't having it, try playing their favorite song or show on YouTube on your smart phone. Sometimes just hearing their favorite things can make them smile with ease. YouTube now has a KIDS app that you can download to your smartphone so this is a seriously simple way to entertain a little one while you photograph them!
Where is your favorite place to take photos of your kids? These Simple Photography Location Ideas will inspire you!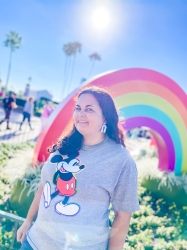 Latest posts by Krystal | Sunny Sweet Days
(see all)