Kentucky Derby Party Ideas | Bourbon Arnold Palmer Cocktail
The Kentucky Derby, also known as the "Run for the Roses," is an annual horse race held in Louisville, Kentucky. It's a day filled with fast-paced action, exciting competition, and, of course, plenty of partying. If you're planning to host your own Derby viewing party, you'll want to make it a memorable event that captures the spirit of the race. To help you make your party a winner, we've compiled a list of creative Kentucky Derby party ideas. Plus, I have a recipe for a delicious boozy Arnold Palmer!
Set the Scene with Kentucky Derby Decor
When it comes to Derby party decorations, think elegance and Southern charm. Choose a color palette of classic Derby colors, such as red and green, to represent the roses and the grass of the racetrack. Use these colors throughout your party space, from table settings to coordinating flower arrangements.
In addition to your basic color scheme, consider adding some fun, race-themed accents to your decor. For instance, you could use horse figurines or jockey helmets as table centerpieces. Another idea is to hang up racing silks or pictures of past Derby winners around the room. Finally, don't forget to set up a designated spot for your guests to pose for photos in their Derby attire.
Host a Kentucky-Inspired Derby Menu
No Derby party is complete without a delicious spread of Southern-inspired dishes. Start planning your menu by featuring some classic Kentucky favorites, including:
Hot browns: A delicious open-faced sandwich featuring sliced turkey, bacon, and Mornay sauce.
Kentucky burgoo: A hearty stew made with a mix of meats, vegetables, and spices.
Benedictine spread: A cucumber and cream cheese mixture that can be served as a dip or spread onto sandwiches.
Don't forget to also offer some lighter fare for your guests, such as fresh fruit and vegetable trays. And for dessert, consider serving a traditional Kentucky Derby pie, made with chocolate chips, walnuts, and bourbon.
Have Fun with Kentucky Derby-Themed Drinks
Of course, no Kentucky Derby party would be complete without the signature drink, the Mint Julep. Made with bourbon, simple syrup, fresh mint, and crushed ice, this refreshing cocktail is served in a silver or pewter cup for an authentic touch.
Oaks Lily
Another popular race day drink is the Oaks Lily, named after the Kentucky Oaks race that takes place the day before the Derby. This bright pink cocktail is made with vodka, cranberry juice, triple sec, and lime, and garnished with a fresh blackberry and lemon twist.
Bourbon Arnold Palmer
To make a boozy Arnold Palmer, try mixing up Kentucky bourbon, ice, lemonade, and iced tea with lemon slices and mint.
To get started making your boozy drink, fill a cocktail shaker with ice cubes. Pour in bourbon followed by lemonade and iced tea. Shake well and pour into a glass.
Garnish with lemon slices and mint leaves.
Cheers!
Boozy Arnold Palmer | Kentucky Bourbon Cocktail
Make a delicious cocktail perfect for a Kentucky Derby party or a summer get-together!
Ingredients
2oz Kentucky Bourbon
Ice Cubes
2oz Lemonade 
2oz Iced Tea
Lemon Slices 
Mint Leaves
Instructions
Fill a cocktail shaker with ice cubes.
Pour in the bourbon.
Add the lemonade & iced tea.
Shake well.
Pour into a glass.
Garnish with lemon slices & mint leaves.
Cheers.
Nutrition Information:
Yield:

1
Serving Size:

1
Amount Per Serving:
Calories:

161
Total Fat:

0g
Saturated Fat:

0g
Trans Fat:

0g
Unsaturated Fat:

0g
Cholesterol:

0mg
Sodium:

10mg
Carbohydrates:

8g
Fiber:

1g
Sugar:

6g
Protein:

1g
The nutritional information here is an estimate. While I try to provide accurate information via Nutritionix, this information is provided as a courtesy and there is no guarantee that it will be completely accurate. I am not a certified nutritionist and any information sunnysweetdays.com should only be used as a general guideline.
Looking for more drinks? I've got a list of 10 more Kentucky Derby cocktails!
Non-Alcoholic Options
For guests who prefer a non-alcoholic option, consider offering a mint-infused lemonade, or create a fruity and refreshing mocktail with ingredients like ginger ale and fresh fruit.
Spice up Your Look with Derby-Inspired Fashion
One of the most fun aspects of any Derby party is the chance to dress the part. Encourage your guests to embrace the spirit of the event by donning their most stylish race day attire. For men, this might include a suit or blazer with a colorful tie and pocket square, while women can embrace the opportunity to wear a fabulous hat or fascinator.
Consider hosting a best-dressed contest, with small prizes for the winners. You could have categories for the best hat, the most creative outfit, and the most dapper gentleman. This friendly competition will add an extra level of excitement to your party and encourage everyone to put their best fashion foot forward.
Create Unforgettable Derby Games
To keep your guests entertained throughout the party, plan a few Kentucky Derby-themed games. Some ideas include:
Derby trivia: Test your guests' knowledge of Derby history and horse racing facts.
Horse race betting: Set up a simple betting pool for guests to place bets on the race. You can use play money or real cash, depending on the preferences of your guests.
Pin the jockey on the horse: A fun twist on the classic "Pin the Tail on the Donkey" game.
Get Crafty with Derby-Related Craft Projects
Keep your guests engaged and entertained with some fun, Kentucky Derby-inspired craft projects. Consider setting up a station where guests can create their own fascinator or hat using a variety of materials, like ribbon, feathers, and faux flowers. Not only will this activity be a hit at your party, but it will also provide your guests with a unique souvenir to take home.
Another craft idea is to have guests decorate their own racing silks. Provide plain white T-shirts, fabric markers, and stencils, and let guests unleash their creativity in designing their own unique racing uniform. You could even have a fashion show afterward to showcase everyone's creations.
Put the Spotlight on the Horses
Although the party atmosphere is a significant aspect of any Derby event, don't forget the real stars of the show: the horses. Be sure to set up a comfortable viewing area for your guests to watch the race, complete with plenty of seating and a large screen. You could also provide programs or racing forms for guests to study the horses and make informed bets.
Besides the main race, consider hosting a "hobby horse" race for your guests. These are toy horses on sticks that guests can "ride" while racing against each other. This activity will surely bring out the competitive spirit in your guests and provide plenty of laughs.
Get the Derby Spirit with Music and Entertainment
Set the mood for your party with a playlist of Kentucky Derby-inspired tunes. Some classic songs to consider include "My Old Kentucky Home," "Run for the Roses," and "Camptown Races." Besides music, consider hiring a live band or a DJ to keep the party atmosphere going throughout the event.
Finally, as the race approaches, consider organizing a Derby hat parade or a contest for the best Derby-inspired attire. This will not only give your guests a chance to show off their stylish outfits but also help build excitement for the main event.
Hosting a Kentucky Derby party is a great way to bring friends and family together to celebrate the excitement of the race. By incorporating these creative ideas into your event, you'll create an unforgettable experience that captures the spirit of the Derby and leaves your guests talking long after the race has finished. So don your finest hat, mix up a batch of Mint Juleps, and get ready to celebrate the "Run for the Roses" in style.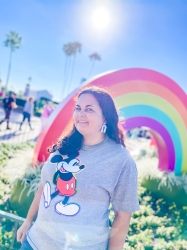 Latest posts by Krystal | Sunny Sweet Days
(see all)