How to Make Your Family Camping Trip Comfortable
Family camping trips have always been a great choice for family holidays, however, with Covid-19, staycations have become the number one choice for people trying to have time away from home. Taking your family on a camping trip should be the ultimate escape from everything that has been happening in the world. So, if you are going to do it, you will want to do it right and make sure that your family camping trip is as comfortable as possible. Here are some of our top tips for making sure that happens!
Bring A Good Tent
You should consider the tent as the glue that holds your camping trip together. It is vital to have a tent that keeps you warm and comfortable. To make sure your family is happy, get a tent that has enough space for you all so that you aren't all on top of each other. Tents that come with pockets and vents also make a big difference to your comfort and convenience. If you are unsure of what tent to go for, the tent reviews at MyOpenCountry.com provide an informative perspective on what tents to consider. And with that in mind, you should get a tent that can withstand the elements! Whether it is raining or strong winds, you need your tent to be a haven that will protect you. So, while it can tempting to buy a cheaper tent, sometimes it is worth investing in something a little more sturdy. 
Set Up A Comfortable Sleeping Site
There are certain tips and tricks that you can do to make sure your sleeping site is as comfortable as possible. For example, campsite padded flooring makes a world of difference. Often these foam tiles are lightweight and interlock with each other, making them a useful choice. The kids will not be moaning about lumps and bumps on the floor when you lay these out across the tent floor area. 
The next thing you will want to consider is sleeping bags vs air mattresses. Both have their pros and cons, but typically air mattresses will take up more space and also be more expensive. So if you are camping on a budget, then opting for sleeping bags might make more sense. It's important to take the time to research what you are getting because you want a sleeping bag that's going to keep you warm and also be comfortable in its shape and size. Putting your child in a sleeping bag that's too small is just simply not going to work.
Lastly, bring pillows from home! There is nothing quite like the comfort of your own pillow, no matter where you go.
Gear Up Your Camping Kitchen
Of course, you will have probably decided to bring some of the basics, such as a portable stove, plates, and cutlery. However, if you want to up the comfort of your camping trip, then bringing some more indulgent items will definitely benefit you and your family. Items such as a cooler for drinks will go down well with both adults and kids! Additionally, a prop up table can also glam up your camping kitchen with added comfort.
Bringing a couple of extra items for your kitchen will also mean that you have a bit more leverage when it comes to cooking. You will be able to serve up some great dishes that leave everybody happy. Let's face it, what's more comforting than food? So bear this in mind and pack those ingredients that you know will be crowd-pleasers.
Bring Camping Chairs/ Hammocks
Camping chairs and hammocks may not be essential, however, they certainly provide extra comfort. You can bring prop up hammocks and it gives you and your family a place to lay outside that isn't just on the ground. It also helps to create zone areas, which is important for young ones. You then have your sleeping area, cooking area and relaxing area. Additionally, for those adults who might struggle sitting on the ground, prop up camping chairs will provide back support that can be essential for some. Camping is about having fun, but you also need to make sure everyone is getting in that relaxation time, and bringing chairs and hammocks is one way to ensure comfort and rest.
These four simple tips should make your family camping trip as comfortable as possible! That way you can have all of the fun of camping without compromising on comfort.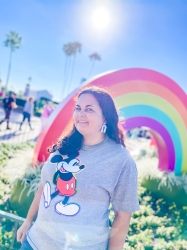 Latest posts by Krystal | Sunny Sweet Days
(see all)