6 Tips for Surviving Long RV Family Road Trips
Traveling in an RV with your family is an affordable way to visit many exciting places. You can take everyone with you, including the pets, be as comfortable as you'd be at home, and choose from thousands of beautiful and family-friendly camping destinations. However, this doesn't change the fact that long days of staying on the road and trying to reach all the planned destinations can be tiresome. Whether you're an owner of one of the small pop up campers or you drive a regular RV, it's always a good idea to prepare ahead of time so the next family trip can be successful.
For instance, a thorough safety check to ensure that everything is working properly should be your top priority. You should also plan lots of stops to allow everyone to stretch their legs and have lots of snacks, so both the kids and the adults have something to occupy themselves with whenever they feel bored. If you'd like to learn more about the secret to surviving long RV trips with your family, continue reading the article below!
Do a Safety Check
Camping is one of the most fun things you can do with your family. However, it's important to start a trip by performing a thorough safety check. You should pack a roadside emergency kit, check your tires, and carefully walk around and inspect your RV before you hit the road. You should also make sure that back home, someone knows your planned route and the estimated time of when you plan to get back, as well as anything else that's related to your travel.
It can be a trusted neighbor or other members of your family. Throughout the trip, keep in touch with them and inform them about any changes in your route. This is especially important if you plan to travel through remote areas. When something happens, and there's no cellphone service, it's good to have someone aware of your whereabouts so they can send help.
Prepare a List of Things to Do Along the Way
Once everyone is in the RV, it's time to think about your day-to-day itinerary. You can have a list of places you'd like to visit, but no matter what, you should always keep a few hours free to enjoy the beauty of the outdoors and the breathtaking views. It's also advisable to prepare a list of things that can be done inside the RV to keep everyone entertained – maybe there are some Korean dramas you want to catch up on?
For example, if you have a TV, you can watch DVDs, play board games and cards, or even get creative and make some fun crafts together. Many families also like to sing songs or play music while driving to feel more energized. It's also a good idea to learn some fun facts about the places you're traveling through to make the trip more memorable.
Pack Snacks
When people get bored, food is often a thing they reach for just to have something to do. Munching on some snacks that you took from home can be a great way to keep your kids happy and occupied. For instance, peanut butter and jelly for tasty sandwiches always do the trick. You can also pack cereal that tastes great whether you eat it with or without milk, like Cheerios or Shredded Wheat. Long-lasting fruit such as oranges, clementines, grapes, apples, and pears will hold well in an airtight container, provided they're unpeeled or unsliced.
Do Plenty of Stops
It's a great idea to plan plenty of stops while traveling in an RV. You should stop at least once every 2 to 3 hours and give everyone a chance to stretch their legs, have a snack, or just enjoy the fresh air and take pictures of the place. When stopping for the night or staying at an RV park, it's best to pick family-friendly parks with lots of activities for kids, like playgrounds and pools. That way, your children can quickly find something to do instead of staying inside the RV through the whole stay in the park.
Don't Overload Your Schedule
Cramming the schedule to the maximum to make the most of your trip can be tempting, but when you're traveling with kids, it can quickly lead to meltdowns or make your family tired and grumpy. It's crucial that you schedule some free time, so they can enjoy the trip the way they prefer.
For instance, you can aim to visit one big attraction a day. Let the kids explore the surroundings so they can walk around at their own pace, play, and simply enjoy their time the way they prefer. This way, you'll let them recharge and avoid tantrums on crankiness later.
In Conclusion
To sum up, going on a fun trip with your whole family is a great way to bond with your loved ones, but there are a few things you should keep in mind to keep everyone safe and happy. For instance, by planning plenty of stops, you'll be able to enjoy the fresh air and nature while your children can have fun and use up some of their energy.
You can also pack lots of delicious snacks, so everyone gets something they like and has something to munch on whenever they feel bored. During such trips, it's usually best to avoid overloading the schedule. It's also crucial that you perform a safety check before hitting the road. Bon voyage!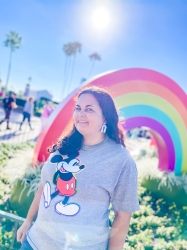 Latest posts by Krystal | Sunny Sweet Days
(see all)