Family Vacation: 6 Tips for Traveling with Kids
There are many benefits to family vacations. First and foremost, it is the much-needed rest that you all deserve after the grueling hours at work or school. It is also the perfect opportunity to strengthen your bonds, create beautiful memories, and learn something new about each other. In theory, it sounds very inspiring; however, it can be a very stressful experience, especially if you are a parent that has to ensure that everything goes smoothly.
Unfortunately, going on vacation with your kids might be a tricky affair because you cannot foresee what will happen. But you can ease your travel anxiety by researching your destination, booking your tickets and accommodation in advance, and creating a checklist of all things you should take. You should also buy travel insurance and prepare your kids.
It is better to be safe than sorry when traveling, so keep reading! Here are some tips that will help you prepare for your vacation:
Research the Destination
You might be tempted to book a destination you've always wanted to visit, but it is best to do ample research. Have your kids been to any place similar? How did they react to it? What should you avoid? You should also check out the crowds, weather, and security. In addition, you should read up on the places that your kids can visit in case they get bored.
Tons of travel guides and websites can help you research your destination. You can find a lot of helpful information, like the things to do and places to visit. You may also want to consult with your kids on what they would want to do or see. If you are traveling to a foreign country, you can also learn about their culture, etiquette, and food. It is better to be prepared for anything than to be utterly clueless about your surroundings.
Book Your Flight and Accommodation in Advance
The sooner you book your flight and accommodation, the better. This will save you a lot of money and hassle because you might find some very attractive prices when buying before the peak season begins.
You should also look into online coupons and promotions – sometimes, the best deals include Premier Inn discount codes or hotels alike, allowing you to enjoy even 15% off your booking. Another way to save big is to opt for a package deal. This means that you will get a discounted rate for hotels, flights, and transfers when you purchase them together.
You should also make sure that your accommodations are close to any places you would like to visit. There are some accommodations with shuttle services that can take you anywhere you want to go.
Create a Checklist
You might feel stressed out if you try to prepare for everything at once. The best way to approach travel planning is to create a checklist of what you need to do. For example, start by booking your flight and accommodation. Then, buy travel insurance and make sure that your passports are valid.
You should also create a checklist for packing to avoid forgetting anything you could need on the trip. It is better to overpack than go without essential items. Some of the things you should include are toiletries, swimwear, and beach towels. Other things to consider are snacks, a first aid kit, and personal items such as your identification card and a cell phone. If you take little kids with you, you should also include their essentials such as diapers, clothes, bottles, formula, and toys.
Buy Travel Insurance
You should always have travel insurance when going on a trip. This way, you can protect yourself financially in case anything happens while you are away from home. Travel insurance covers a wide range of things, including cancellations due to weather conditions, injury, illness, accidents, lost baggage, lost tickets, etc.
If your trip is already booked, you can buy travel insurance online to protect yourself and your family in case something unfortunate happens.
Prepare Your Kids
It is best to prepare your kids for the trip ahead of time, so they know what to expect. You can tell them that it is going to be fun but that they will need to behave themselves and listen to your instructions. It is essential that you explain everything to them because they will be more cooperative if they already know what's in store for them. You should also remind them about the items you prepared in case they forget anything important.
Start Packing Early
Overwhelmed by work and house responsibilities, you might postpone packing until the last minute, but it is not a good idea. It is best to start packing at least a week before your trip. You will then have time to double-check what else you need and avoid running last-minute errands.
This will also allow you to repack if you notice that you are overpacking. And if you are still confused, you can always turn to your checklist to help you out!
In Conclusion
To sum things up, it is best to be safe than sorry when going on a trip with your kids. A lot of research, planning, and packing will go a long way, so start early, and you'll be fine! Aside from planning for your trip, you should also prepare your kids. You should tell them what to expect and how to behave.
If you are still thinking about whether or not you can handle traveling with your kids, you will find that it is actually a very rewarding experience. Your family will grow closer while exploring new places and learning new things. You will have fun making beautiful memories and creating new traditions! Just remember that preparation is key. Happy vacationing!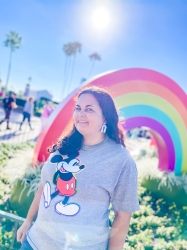 Latest posts by Krystal | Sunny Sweet Days
(see all)