List Of Most Useful Portable Items In 2021
It is a no-brainer that we all like to pack light and not lug tons of heavy stuff when preparing to travel. Not only that, we want the conveniences of our home when we are away from it. However, packing for a vacation can become overwhelmingly hard sometimes.
To make life easier for you, we have compiled a list of some useful portable items that will ease your travel hassles and make them much easier and more fun unlike ever before. Check them out!
Steamfast Mini Iron
It may be one of the smallest steam irons available out there, but that does not take away its powerful ability to create crisp creases and remove those unsightly wrinkles. This mini iron features non-stick soleplates and is strong enough for you to use every day at home, yet lightweight and compact enough to take along with you while traveling. With a quick 15-second heat-up time, this iron makes for an ideal appliance to have to hand on hand for quick touch-ups to keep your garments looking their best when away from home.
Anker PowerCore 20100
An external battery is something without which one should never go on a trip. After all, no one likes to carry around a dead cell phone in modern times, do they? With ultra-high capacity, this power bank provides enough power to keep you going for days when you are out and about.
Featuring two USB ports, it is capable of charging two phones simultaneously at top-class charging speeds.
This portable charger can easily fit inside your backpack, purse, or computer bag, making it an easy to carry item while on the go. The PowerCore 20100 has universal compatibility, which means you can use it with almost any gadget that charges from a USB port.
Blendaco Blender
Portable blenders are great to mix up your favorite drinks on the go. The best ones can crush ice and frozen fruit in a heartbeat for a refreshing drink at any time of the day, like those from Blendaco based in Australia. Lightweight and cordless, these blenders are an excellent appliance to whip up a smoothie, shake, or juice and nourish your body while away from home without the hassle of lugging around a big bulky tool.
PhoneSoap Smartphone Sanitizer
This UV light sanitizer is a convenient and easy way to keep your phone free from any germs and bacteria. Our phones are a hotspot of bacteria we pick by touching various things throughout the day when outside. This little device is a brilliant way to keep your smartphone clean and sanitized, especially in times of a global pandemic.
Capable of accommodating phones of all sizes, you just have to pop yours into this lightweight case to keep germs and diseases at bay. It even features a USB port, so you can charge your phone while it disinfects.
Roost Laptop Stand
Hunching over while working on a laptop is far from healthy as it can cause eye strain and muscle pain in various parts of your body. With a compact yet sturdy laptop stand, you can position your laptop screen to the perfect position and prevent muscle strain in your back and neck.
Whether you are a business traveler or a digital nomad, it will keep you sitting upright while bettering your posture. This adjustable laptop stand makes for an excellent travel accessory as it is ideal for computing on the go. You can fold it and toss it in your backpack, briefcase, or laptop bag and take it with you to class, office, or coffee shop with utmost ease.
Fire HD 10
An Amazon Fire tablet allows you to download your favorite books and TV shows and stay entertained wherever you are. It is lightweight and durable and gives you many of the benefits that come with a regular tablet, but without the hefty price tag. While it may not be a full Windows machine, the inclusion of many laptop features like Microsoft 365 apps make it a decent alternative for a laptop, even more so when traveling.
Sonos Roam
Bluetooth speakers are one of the most popular implementations of Bluetooth technology in modern times, enabling you to take your music with you virtually anywhere. With dimensions and features rivaling those from other big names in the industry like JBL, this budget speaker is IP67 rated, offering complete water and dust resistance. Sleek yet robust, it boasts an impressive battery life of up to 10 hours from a single charge.
The Sonos Roam may not be the best-sounding portable speaker for its size, but its sound quality certainly justifies its economical price tag of $169.
Lifestraw Water Filter
Access to clean and safe drinking water should always be a top concern while exploring the great outdoors. If you are someone who frequently goes on extended hiking or camping trips, you will want a way to purify the contaminated water you come across out there. The Lifestraw water filter is an innovative travel accessory that provides you peace of mind when you are not too sure about the safety of freshwater when out into the wilderness.
GoPro Hero 9
Capable of recording stunning videos with laser crisp 5K resolution, the groundbreaking GoPro Hero 9 is just what you need to record your outdoor activities and adventures with utmost smoothness, clarity, and stability. Rugged and waterproof, it has a long-lasting battery that provides you with enough operational time to record time-lapses.
Boasting powerful high-resolution features, getting your hands on this action camera makes even more sense if you are a Vlogger or perhaps just an outdoor enthusiast who would like to capture your life's favorite memories from every angle.
Whether you are hitting the road, heading out into the wilderness, or perhaps flying out, there is a portable item to suit your needs. These accessories are great to have by your side while on the go as they will add extra convenience to your travel adventures and make them much more enjoyable.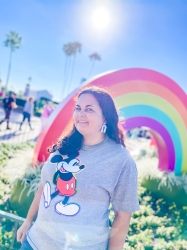 Latest posts by Krystal | Sunny Sweet Days
(see all)