How Can A Woman Become A Better Golfer?
Although golf doesn't seem to require much physical effort, carrying your golf bag and walking a nine-hole course can burn a lot of calories and improve your fitness levels. Moreover, there are many health benefits to playing golf that are more apparent in women than men, like reducing stress levels, keeping active, stimulating blood circulation, better sleep quality, strengthening bones, and improved fitness levels. In the past, golf was played by men only, however, the number of women who play golf has increased a lot, as according to the National Golf Foundation, 20% of eighty million golf players around the globe are women. If you are a lady who is into golf and wondering, how can a woman become a better golfer? You came to the right place, as in this article we will help you up your game by providing you with some tips and tricks to becoming a better female golfer.
Do Not Bend at Knees
When swinging, tilt your body at the hips and avoid bending your knees as most newbie female golfers do. Bent knees can ruin the proper swinging posture and weaken the swing power as it doesn't allow the club to move in a circular motion. On the other hand, bending at the hips promotes the right golf stance, which pushes both shoulder blades and rear to improve balance and make room for the swing. Moreover, bending at the waist should be avoided too, as it results in bending over the back angle.
Join a Golf Club
Joining a golf club is a great idea for being part of a community with similar interests. There are golf clubs for different demographics like ladies, men, handicapped, seniors, and so on. Moreover, if you join a decent club, you will get the opportunity to learn from ladies who are more experienced golfers than you are. Ladies in the club can share their experience with some of the golf tools specially made for women and help each other avoid certain brands or buy high-quality products for cheaper prices at certain stores. Golf clubs organize fun tournaments and events that will sharpen your skills on the course while enjoying your time with your golfer friends.
Practice Makes Perfect
Regular practice is key to enhanced skills and smarter decisions on the golf course. Dedicate enough time to playing golf during your week if you want to see results in a short period of time. Staying committed to these games is vital to keep your skills sharp and create room for more advanced skills and improved game style. You'll also find that by using the correct clubs, your progress will take less time. You need to do your homework to discover which are the best ladies golf clubs and also which ones you need to use for the level that you're at. The right clubs paired with consistent practice is going to get you advancing in no time at all. Staying away from the golf course will definitely have a negative effect on your skills.
Educate Yourself
Educate yourself by reading books about golf psychology, that can teach you how to focus and make better decisions on the golf course. Reading books about golf is a sort of entertainment too, as it is your hobby and surely you want to know more about it. Learning some tricks that you can benefit from while playing golf will make you ahead of your game.
Put Your Skills to the Test
Don't be afraid to test your skills, as some people avoid competition, so they don't fail in front of everyone on the course. This kind of thinking will get you nowhere! Learning through trial and error is crucial for progress. Moreover, no professional golfer was born a pro! Take your time and play in competitions to assess your skills and decide how you can improve them.
Watch Games
Watching tour games will teach you a lot about golf. It is as important as reading books about golf to become more knowledgeable and aware of the sport you enjoy the most. This way, you will get to learn from the best, as you will watch professional players and their different styles. Always go for the big games with famous, top-notch players in them.
Golf is a fun game that requires physical fitness and a witty brain capable of making sound decisions while playing. Ladies' interest in golf has increased in the past couple of years, and ladies' golf clubs have been created. To become a better female golfer, you need to avoid bending your knees while swinging and bend at your hips only, join a golf club to be a member of the golfers' community and make the most out of the golfing experience, read about golf, watch tour games, practice a lot, and play in competitions to know where you stand and how to improve. Playing golf can be one of the best decisions you have ever taken, as it will boost your mood, help you make new friends, and improve your physical and mental health.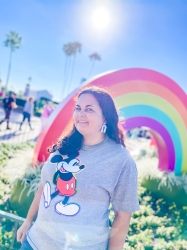 Latest posts by Krystal | Sunny Sweet Days
(see all)