How to Plan a Safe and Blissful Cruise Trip with Family
Arranging a safe and happy cruise journey with family might be thrilling and fun. Still, it also takes careful planning and consideration to guarantee a smooth and stress-free trip. Families may choose an activity that everyone will love aboard cruise ships because they provide something interesting for all age groups. In addition, there is always something to do on a cruise ship, from kids' groups and pool parties to live performances and outdoor activities.
Families who go on cruises have a unique chance to bond without the interruptions of daily life. Cruises offer a pleasant and peaceful setting for families to connect and make lifelong memories, whether exploring a new destination or participating in onboard activities. Consequently, the following advice will help you organize a good cruise vacation for your family:
Select the most suitable cruise line and ship
Choosing the best cruise line and ship is the first step in organizing a safe and enjoyable cruise trip with family. First, consider the ship's size, the amenities provided, the location, and the kinds of activities offered. Then, research your options and read reviews from other families who have taken comparable voyages to see which cruise lines are most family-friendly.
Book early and ahead
You will have more options for cabins if you reserve early, and you'll also get the most significant cruise discounts. Additionally, you can benefit from early bird discounts and other deals that might not be accessible closer to the departure date.
Pick the right cabin
Choosing the ideal accommodation can significantly impact your cruise experience in terms of comfort and enjoyment. Consider the cabin's location, dimensions, and the sort of view it offers. For example, most ships provide family cabins, which are great for families taking children because they provide extra space and privacy.
Get ready for the trip
Make sure you have all the required paperwork, including your passport and any necessary visas, before departing for your cruise adventure, and pack appropriately. Think about the climate where you're going and pack the right clothes and equipment. Pack any entertainment or children's activities along with any necessary medical equipment.
Maintain safety precautions
Cruise ships must adhere to strict rules on safety precautions to protect the well-being of their guests. Ensure you know the ship's safety procedures and emergency measures and that your family is also. Always watch young children, and ask for assistance if you need any.
What to do if you get hurt
You must move quickly to secure proper medical care and defend your legal rights in the event of a cruise injury. The first and most crucial action is to get medical help. Most cruise ships feature a medical center on board with qualified medical staff on call around the clock. As soon as possible, inform the ship's crew or security personnel about the occurrence.
Suppose you get hurt by the cruise line's or crew members' negligence. Then you are entitled to compensation for your medical costs, lost pay, and pain and suffering. According to iLawyerUp, cruise ship lawyer firm in Florida, "As a passenger on a cruise ship who has been hurt, it is essential that you are aware that you have specific legal rights. These include bringing a lawsuit against the party accountable for the damage." It would be best to speak with a personal injury lawyer focusing on cruise ship accidents to learn about your legal possibilities.
Utilize the onboard entertainment and activities
The range of onboard activities and entertainment choices is one of the finest aspects of a cruise vacation. Kids' clubs, pool parties, movie theaters, and live performances are just a few activities on many cruise ships. Therefore, you can use these activities to keep your family occupied and amused during the journey.
Make wise travel arrangements
Make sure to select excursions at your destination that are suitable for your family's age and ability level. Reserve excursions through the cruise company or recognized tour companies to ensure safety and prevent fraud. Always have identification and emergency contact information. Remember that you have kids, and they may get tired after all the sightseeing and (of course!!) shopping; therefore, keep a safe margin to return to your ship before it departs.
Considering your budget
Setting and adhering to a budget is essential because cruise adventures may be costly. Consider all associated expenses, such as travel, cabin fees, outings, meals, and aboard activities. Find methods to save money by making early reservations, utilizing package discounts, or packing your food and beverages. You can also use this saved amount to buy an extra perfume or an exclusive wine bottle for friends back home.
Build memories
Last, but not least, remember to snap lots of pictures and generate lifelong memories. Explore new places, participate in onboard activities and entertainment, and spend quality time with your family. A cruise excursion can be an excellent way to strengthen relationships with loved ones and share remarkable adventures.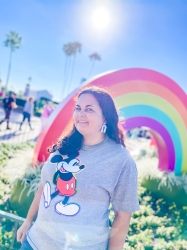 Latest posts by Krystal | Sunny Sweet Days
(see all)