11 Reasons You Should Visit Dallas
If you're looking for reasons to make Dallas your next vacation destination, you've come to the right place. Dallas is a city that has so much to offer for people who are looking to see something new, and you won't ever have to spend a day bored for the entirety of your vacation. In fact, there are so many interesting things to do and see that you might even consider rebooking your vacation to see the rest later on. No matter whether you're an early riser, or a night owl; you'll find that there's plenty of things you can get up to in the City of Dallas.
A tour of Dallas
What better way to start off your trip to Dallas than with a tour of the whole city? If you're the type who wants to know where everything is and have things recommended to you while you're there, you can't go wrong with getting a tour. There are a few services that you can apply for, and they'll show you around the place and tell you everything you need to know about. The benefit of this is that you can learn about the things that aren't typically on the map, but previous tourists have enjoyed. It could be restaurants, sightseeing locations, or an escape room around Dallas.
Museum tour
If you like to look at how things used to be and visit all kinds of museums, then Dallas is the perfect place for you to indulge. There are Museums for nearly everything you could imagine, and you're not going to be able to see the same things everywhere else. Thanks to Dallas' huge variety of different museums and cultures, you'll have access to historic pieces that you likely would have never seen before, and museums that you won't see replicated in another location.
Crow Collection of Asian Art

Like mentioned before, Dallas museums will likely feature things that you've never seen before – and the Crow Collection of Asian Art is the perfect example of that. It's not often you get the chance to learn about historic parts of Asian culture outside of Asia, and Dallas might be the last place you would expect you can do so. The Crow Collection aims to provide detailed education on all of their pieces and how things would have been around the time of their creation. Of course, if you would like to learn about these things in detail, you can schedule yourself a tour.
Perot Museum
If you're a science fanatic and are interested in taking part in what a museum has to offer, then the Perot Museum of Nature and Science would make a great day trip for you. If you're traveling as a family, you'd be glad to know that the Perot Museum sets out to inspire those of younger ages to take an interest in nature and science. There are plenty of activities for everyone to participate in, and you won't regret taking the time to pay it a visit.
Dallas Museum of Art
One of the best things about art museums is that they often have something for everyone, and that's what you can expect to gain from the Dallas Museum of Art. There will be pieces unlike you've ever seen before, and it can be a very inspiring experience to all of its visitors. The Dallas Museum of Art houses more than 25,000 different pieces of art, including paintings, sculptures, statues, and more. For anyone who is interested in historic art pieces – this is the perfect place for you to visit.
The Sixth Floor Museum at Dealy Plaza
If you're looking for an experience that you can truly only get in one place in the world, the Sixth Floor Museum at Dealy Plaza is just that. It's set in the exact location that John F. Kennedy passed away and features the life, death, and legacy of the former president himself. As this museum is in the location of the event that happened, you won't get an experience so immersive in another location anywhere else in the world.
Meadows Museum
Yet another museum for those interested in a foreign culture, the Meadows Museum, or the "Prado on the Prairie" is one of the biggest collections of historic Spanish art that's not located in Spain. With this on top of all of the other Museums that you have available to you, you're spoiled for choice. The Meadows Museum features works from as early as the 10th century, and they're not pieces you would find at another location.
Frontiers of Flight
For those interested in the technology surrounding aviation and how things came to be the way they are, the Frontiers of Flight Museum features exactly that. The collection is focused on the history of aviation and even space exploration – with many artifacts related to those. You can expect to see exhibits on a large range of different things, from the German airship – the Hindenburg, and even the Apollo 7 Command Module. If you've never paid interest in this topic before – now is the best time to do so!
A day at the zoo
No matter where you are in the world, it's always nice to be reminded of what nature has to offer. A visit to the zoo can make for a great day trip anywhere you are on any day. It's perfect for social trips, trips with the family, or trips with a loved one. The Dallas Zoo features habitats that you won't likely get to see in other zoos around the world – so it would be worth making the most of this opportunity while you have it.
The aquarium
The Dallas World Aquarium is yet another location that you can't afford to miss out on. It's more than the name suggests, as the upper floor of the aquarium is an artificial rainforest that features a range of different wildlife that you would expect to find there. On top of that, the aquarium features a number of different aquatic species, from fish to penguins.
See the city's nightlife
If there's one thing that you should make sure you see at least once while you're visiting – no matter what else you decide to do; it's seeing the city at night. Every city has beautiful attractions all over, and they become even more beautiful when lit up by the city lights. You should be sure to take the time to drive around, or take a walk along the riverside during the night – it would make your trip that much more memorable. Even better if you find a restaurant to spend your evening at.
The Discovery Gardens
If you're visiting in the summer, you won't want to miss out on the Discovery Gardens. The gardens feature a large range of exotic plants that you can't find just anywhere in the wild. The beauty of the gardens makes it a great location for a trip on a hot day. It's not just the plants that attract visitors, but the wildlife that inhabits them. From butterflies to birds – it's a truly unique experience.
No matter who you are or what you're interested in, visiting Dallas can provide a wonderful experience for you. There are things all over the city that can offer you a day to remember, and you won't feel like you've wasted your time on money on your trip. Like previously mentioned, you might even find yourself booking another vacation so you can explore the rest of what Dallas has to offer you.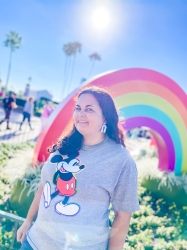 Latest posts by Krystal | Sunny Sweet Days
(see all)