5 Family Friendly Halloween Games for Kids
If you are planning any Halloween parties this holiday season, you might want to include some fun games on the agenda. Playing games at your Halloween parties and gatherings is a great way to entertain guests and really get into the season! If you aren't sure where to begin, take a look below at five family friendly Halloween games for kids so you be sure to offer games the whole family can enjoy.

1. Make Your Own Mummy Game. Divide the party up into teams of 2-3 and save one guest to serve as a judge. Give each team a roll of toilet paper. Set a timer for 60 seconds. See who can create the best mummy in that time by wrapping one of their teammates up in the tissue. This is a fun game that is sure to get some laughs.
2. Spooky Spiders. Fill a large bowl with rice or sand. If you want, you can even dye the sand orange or black prior to playing using food coloring. Toss a package of plastic spiders inside of it. Give each player chopsticks and see how many spiders they can dig out in a time of 30 seconds. The player who digs out the most spiders wins.
3. Going on a Bat Hunt.  Head to Dollar Tree where bat die cuts are sold by the package for just $1. Get some clear tape and tape the bats all over the party space. Have guests see how many of the bats they can find when you say GO. Get creative hiding them behind doors, on mirrors, or even on windows. Place them in places both high and low so players of all heights can find them.
4. Spooky Sensory Fun. Take four shoe boxes and cut a hole in the side. In the boxes you will place these items: cold, cooked spaghetti (monster brains), grapes (bat eyes), carrot sticks (witch fingers), and candy corns (scarecrow teeth). Have a list of spooky items that the boxes "contain" and see if guests can guess which is which. They will love sticking their hands in and feeling around.
5. Build your own Scarecrow. Fill a box with thrift clothing such as flannels, jeans, overalls, tube socks, and old hats. Also include either straw or plenty of newspaper. As a group or as teams, create your own scarecrow. Pick out an outfit, stuff it, and create a scarecrow that can then be used as party décor. This is sure to be a fun activity that lets guests get creative.
6. Donut Dunk. Hang donuts by a straw and let your little ones nibble on them hands free! Who can finish first?!
Give these family friendly Halloween games for kids a try and see how much fun you can have at your next Halloween gathering!
What are your Halloween game ideas?
Halloween Party Ideas:
Halloween Decor Guide
Download Shabby Chic Halloween Decor for creative inspiration for your home this fall season. These creative ideas are simple and easy for your busy holiday plans.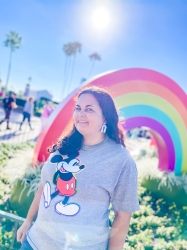 Latest posts by Krystal | Sunny Sweet Days
(see all)