4 Essentials For Decorating Your Home – Invest In Your Interior Design
There are a few items that are an absolute must-have when it comes to home decoration. They always bring a sense of comfort into your home and you'll notice that you carry them with you every time you move. Everybody has their go-to pieces of decor.
However, if you don't have much experience this may confuse you. There are so many home accessories out there and it's perfectly normal to feel overwhelmed sometimes. Even if you have decorated a home many times before you might need some inspiration.
The right selection of home decor can really change the look of your home and make you feel more comfortable. Everybody wants to have a beautiful house but people often invest in incorrect accessories. Decorating your home isn't difficult at all when you learn a few simple tricks. Let's explore some of the essential accessories that will give your home more glamour and charm.
Aquarium
With proper decoration, an aquarium can look amazing in every home. There isn't anything as calming and beautiful as a fish tank full of colorful fish. Still, don't forget that fish aren't there for aesthetics only. They are your pets. You should be responsible and give them the best care.
When you choose your fish tank, it's not enough to decorate it with basics only. Rocks on the bottom and a few plants won't look as good as you may think. Fortunately, there are plenty of fun accessories that will make your aquarium look unique. Coral, wood, logs, driftwood, accents, and gems are more popular than ever. Combining live plants with artificial ones is also a possibility. Do your research and you will find lovely ornaments, gazebos, rock gardens, coral gardens, and swim-through-stone decorations. Be playful and creative and your aquarium will look original, fun, and glamorous in no time.
Decorative Pillows
If you want a cozy feel in your home, investing in pillows is the way to go. Throw pillows can instantly change your space. They can make every room look stylish and comfortable and you don't need to put any effort into it.
Pillows are pretty and practical. You can place them on your sofas, chairs, benches, or baskets. According to your taste and character, you can choose between natural-looking pillows (if you like minimalism and classic look) and bold, bright pillows (if you want that "wow factor"). Either way, they are absolutely essential if you want to create a stylish space (both indoors and outdoors).
The good news is that pillows are very affordable. So, if you are looking for an easy way to get a new look for your room without spending hundreds of dollars – this is a perfect idea for you.
Mirrors
Mirrors are, in a way, similar to wall art. They always improve the appearance of your home. Not only do they look stunning, but they are also very practical. They add more light into space and can really change the look of your bedroom, bathroom, or corridor.
Mirrors come in various shapes and structures, so make sure you choose your favorite one. Large, window-like mirrors are very popular in 2021 and they can give a lot of style to a neutral living room. An ornate gilt mirror can really make a statement in a master bedroom while a gold-hue mirror gives your space country-house vibes. Another idea is to lean an overscale gilt mirror against the wall to add a bit of drama. If you prefer classical decor, a closet with mirrored doors is the solution for you.
Plants And Flowers
Adding plants and flowers to your home is the best way to include some life into your space. Even artificial plants can look good when styled properly. Having greenery in your home can help you relax and reconnect with nature.
We all agree that plants look nice and have an aesthetic value. But did you know that they can actually affect your health? Plants improve air quality and have many aromatherapy benefits. Various studies have shown that they have benefits for human health, including lowering blood pressure and reducing stress. Many people claim that they started sleeping better when they added house plants into their space and they also say they have more energy.
Make sure you put a house plant in an empty corner of your room and you will see the difference right away. It will give color and texture to any space. Fresh flowers are also a great idea. They smell great, look amazing, and we guarantee they will put a smile on your face every time you look at them.
Decorating your home doesn't mean you need to spend a lot of money or time. It can be easy, simple, and affordable. You just need to know what to focus on. Follow this guide, be original, and play around. You will easily add warmth and style to your home and enjoy it with your family and guests.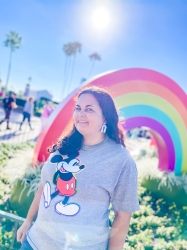 Latest posts by Krystal | Sunny Sweet Days
(see all)