Family Travel Tips that will Ensure that your Next Trip is Stress-Free
Family holidays can either be dreamy or disastrous. You may find that you have to deal with energetic toddlers, temperamental teens and your own exhaustion. Indeed, it would seem that parenting is a fine art, but if you want to make sure that everything runs smoothly for everyone, then there are a few things that you can do.
Choosing your Destination
If you want to maximise the chances of having a truly relaxing holiday, then you have to think about everyone's needs. You need to think about whether or not worra long-haul flight is going to be the best option, and you also need to take into account what is going to make people bored. A spa break may be suited to adults, but if you have restless kids, you may find that they get irritable. It's helpful to try and make sure that you find the climate and the travel options that work best for the whole family, as this is the best way for you to ensure that you find something suitable for everyone. If you want to make the most out of your trip, then it helps to learn some basic terms before you go. If you want to help yourself, then it's a good idea to sign up with Preply tutors online.
Get the Kids to Plan
Why not get the kids to help pick the destination? You can get out an atlas or even a globe and explore the world with one another. You can pick out the destinations that could be an option, and you can also find some fun facts about them all as a family as well. This will help you to really get excited about your adventure with one another, and it will also ignite their love for travel at a very young age.
Be Wise with your Packing
Packing for everyone can be daunting, but you need to try and resist the temptation to involve everyone if possible. At the end of the day, your children's perceptions of essential may include a toy car or a huge amount of outfit changes. The secret to making sure that everyone is happy without going over your luggage allowance would be for you to make a list. You need to try and make sure that you pack efficiently, and you also need to make sure that you do what you can to get everyone their own suitcase. There are lots of types of lightweight carry-on suitcases that will be perfect for any family member. You can look for suitcases that are both compact, lightweight, and have the maximum capacity for their sizes. This will ensure that anyone from your family, even your baby,  can have their own space for packing. If you can do this, you can then reduce any worries about not being able to take enough things with you. But don't worry if you end up carrying more than necessary. For instance, if you are traveling to New York, you can opt for luggage storage in nyc and carry on with your site-seeing without any hassles.
Organise your Documents
If you want to make things easier for yourself, then you need to make sure that you choose your flights carefully so that your family's seats are not dotted halfway across the plane. It's also helpful for you to make sure that you have all of your documents ready because the last thing that you want is to find that some of them are out of date when the time comes for you to make your booking.
Take Photos of your Documents
If you have triple-checked that all of your documents and passports are packed and valid, then this is great. That being said, it's helpful for you to make a copy if possible. You need to scan your family's driving licenses as well as passports. It's helpful for you to keep this copy safe as well so that you can reference it at a later date. Send them to a family member if you want as well, as this is a great way for you to ensure that you are not going to experience any disasters regarding your documentation later on as you will have a secure spare of everything.
Pack Birth Certificates
If you are travelling alone with your kids or if you have an adopted child who has a different surname for whatever reason, then you have to make sure that you take their adoption papers as well as their birth certificate. This will help you to speed things up a bit, and it will also help you to show proof of consent or parental responsibility. A lot of airports are quite strict on things like this as it helps to stop child trafficking.
Timing
It can be awfully difficult to get cheap flights, especially in the school holidays. It's certainly worth doing your research so you can save a bit of money where possible. If you cannot escape getting an early-morning flight, then it's a good idea for you to try and book a room at the airport the night before. This will cut down on the amount of time you need to travel, and it will also make it much easier for you to pack in as much as possible during the day.
Sort your Entertainment
Try and anticipate the frustration that your kids will experience when travelling. Audiobooks tend to be a winner if your kids are older, not to mention that you can also pack some digital movies too. If you want something to entertain your younger kids, then you may be tempted to pack some crayons and drawing equipment, but the truth is that this can make a real mess if you're not careful.
Have a Stop-Over
Flying long-haul when you have kids will require a great deal of strategy. One way for you to try and alleviate any cabin fever would be for you to stop over and break up the journey a bit. You can do some gentle exploring, or you can try and stay where there is a pool so that your kids can splash around and have a bit of fun. Either way, if you get your timing right, then you may find that you can beat some of the jetlag when you get to your destination.
Be the First Off
It's a good idea for you to start the holiday as smoothly as possible. Be sure to label your cases so you don't lose them as easily. There are also some sneaky ways for you to make sure that your bags get off the carousel first as well, if you utilise some of the online tips and guides that are out there.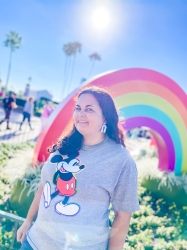 Latest posts by Krystal | Sunny Sweet Days
(see all)