For my husband's birthday, we took a trip to the beach. Since we live in Florida, we have many to choose from. We decided to see friends on the Atlantic side of Florida, a coast I had rarely visited before. It was truly beautiful, but this post is not a vacation recap (that is for later in the week!). This post is about how traveling with an almost one year old can be unexpected.
Our kiddo is social and is great when we go out and about, however lately he is just into throwing himself on the ground and screaming. It's quite awesome…The car ride to the beach was peaceful and easy. He was fine the first night there, but the second day was torture. Nothing could cheer him up, he was screaming and throwing himself everywhere, he wasn't eating or napping. I am guessing he just felt awful or perhaps he beginning to get new teeth, but it was just a mess. I spent pretty much all of Saturday huddled in a hotel room with a cranky kid. I also think that one of my friends is now terrified of having a child. Hey, there are good days and bad days… right? I am just so used to having GOOD days.
Once Daddy came back from swimming with the fishes, we decided to take the grumpiest baby in the world to the beach. Even though we live near the Gulf of Mexico, it is so rare that we actually SIT on the sand and enjoy the beach. We might go to the beach often, but it is not to sit and play in the waves. Typically it is to eat dinner or take a walk. So, while our baby had been to the beach before … it wasn't like this.
After a crazy day of screaming, throwing tantrums, and being generally inconsolable, the kiddo was all of a sudden HAPPY. It was magic. Had I known he would have changed his mood on the beach I would have tried this earlier in the day!
He was pretty skeptical of the sand and surf at first, but he quickly jumped in. He splashed, ate some sand (awesome), and picked up shells to throw. What started off as a shaky family vacation ended up being pretty memorable.
Oh, hi. I'm exhausted. I'm also wearing a dress. I didn't envision actually GOING in the water, but this little guy surprised me and went all the way in!
And, just for fun, we had to get a more compact umbrella stroller for the trip. I was surprised to see that Target's selection was…amazing.
SHARK ATTACK. It was about $20 and totally worth it.
He clearly loves it.
Florida Family Travel Destinations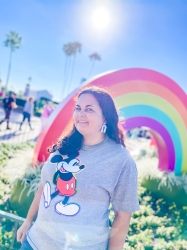 Latest posts by Krystal | Sunny Sweet Days
(see all)