Boat Makeover Ideas For Your Summer Trips
Summer is in full swing, and you still have a few months to go boating before the winter chill sets in. In fact, it is an apt time to plan a makeover for your vessel as you can enjoy sailing this season and keep things new and exciting in the next one. But the project may sound daunting if you are short of time and have minimal DIY skills. However, a beautiful boat interior is an alluring prospect that inspires you to invest time, effort, and money in the restoration process. Moreover, there are plenty of ways to give your boat a fresh look and feel without breaking the bank. Here are the best makeover ideas you can try for making your summer trips more exciting and enjoyable. 
Begin with deep cleaning
Surprisingly, a deep cleaning job often does half the work for brightening the interior. Dirty upholstery, salt-encrusted hatches, and mildewed cabin liners can make the interior space dark, damp, and unpleasant. A declutter and a deep clean job can drastically improve the cabin's appearance and create positive vibes. Wash the walls and treat the wooden parts with the wax, oil, or varnish. Remember to scrub the floors to eliminate the odor.
Swap the lighting
Although a cleaning job freshens up the interior and deck, swapping the light makes the entire space bright and happy. Switch the outdated fluorescent lighting for luxurious fixtures to get functional benefits and an appealing appearance. Hanging string lights across the railings and around the perimeter of the bedroom is an excellent way to create mood lighting for a romantic evening.
Go vintage
A vintage look for your boat is a great makeover idea as it creates a rustic and retro-style appeal. You can buy vintage boat parts online and install them yourself or with professional help. The best part about the installation is that it changes the look and feel complete without requiring a big budget. Complete the look by decking the walls with rustic elements like old maps, paintings, and mirrors.
Add luxe accessories
Adding luxurious accessories is another way to ramp up its look and feel. You might be on a boat, but you can design to replicate a plush hotel's interior. Upgrade your bedding and furniture to create a cozy resting place. You can add rich linen and pillows to enhance the interiors. Bring in natural elements such as potted plants and vases filled with fresh flowers to add beauty to the space.
Deck the floor
A boat's floor need not be an old and boring one with wooden planks. You can bring life to it by placing vibrant area rugs and runners that add texture and warmth to the space. Match them with curtains, furniture, and wall decor to create an aesthetic interior space. You can do the same for the exterior, but remember to install weatherproof accessories, furniture, and fittings.
A boat makeover need not be a burden on your wallet. Consider these budget-friendly ideas to create a glamorous decor you can flaunt and enjoy this summer and beyond.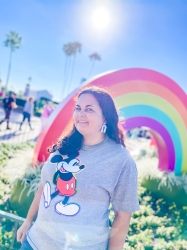 Latest posts by Krystal | Sunny Sweet Days
(see all)