10 Decorations to Unlock Your Farmhouse's Full Potential
When you're living in a farmhouse, you want your exterior and interior to look picturesque. Thankfully, there are many projects you can tackle that will give your home an authentically pleasant farmhouse aesthetic. Before any project, however, you need to focus on the decor of your home if you want to successfully pull off the farmhouse look. To assist you on your journey, here are ten decorations that will unlock your farmhouse's full stylistic potential: 
1. Custom Flower Arrangements
Whether you're mixing sunflowers with daisies, or making another creative arrangement choice, nothing makes a farmhouse pop like a classy, unique flower arrangement. If you live in a farmhouse, you're certainly surrounded by many amazing flowers. Experimenting with your choices will help you find your ideal flower arrangement that will lighten up your family home.
2. The Perfect Farmhouse Fireplace
Nothing makes a farming house feel as cozy as the perfect farmhouse fireplace. Finding ways to brighten up the space around the fireplace, whether it be decorations or furniture, will make the comfort of your living room (or another space that has a fireplace) expand that much further. The fact that there are several different ways to style it makes finding your ideal farmhouse fireplace setup that much more exciting. Investing in a quality stone build around your fireplace is especially recommended.
3. Beehive Decorations
Beehives are likely somewhere in the near vicinity of your farmhouse. Most people assume beehives are only good for honey, but you can repurpose abandoned beehives for some highly unique, beautiful home decorations. Having them from your ceilings, and decorating them in your special style, will add a ton of stylistic flair to your farmhouse's interior.
4. Maple and Oak Furniture
Both maple and oak are perfect wood choices when buying cabinets, tables, and other wood pieces for your farmhouse. They fit the style and location of your farmhouse perfectly, and the quality craftsmanship of maple and oak furniture makes them highly durable. If you're looking to make an investment that could potentially last you a lifetime, maple and oak furniture is something you should be looking into.
5. Decoration-Centric Cabinets
Cabinets that are specifically used to display some of your favorite collectibles, and farmhouse-centric decor, are staples of the classic farmhouse decoration aesthetic. If you want a home that looks as though it could have been decorated by your sweet grandma, this is the decoration project you should be investing time and effort into.
6. Framed Pictures of Your Farm Life
Showing off your daily chores, joys, and productive hobbies as a farmhouse owner is a great way to start conversations with any guests that you host. Making people realize that you're truly living the farmhouse lifestyle is a great way to both boost your confidence and solidify the authenticity of your farmhouse's decor aesthetic. Just make sure you buy quality, wood frames to hang them up with!
7. Repurposed Farm Tools
Speaking of showing off your authenticity as a farmhouse owner, repurposing farm tools as wall decorations are both trendy, and a classic way to spice up a farmhouse's interior. Pitchforks, cowbells, and horseshoes are especially popular. They will give your house a locale-specific aesthetic that is sure to impress your neighbors and any visitor that you host.
8. A Beautiful Mudroom
If you own a farmhouse, you likely have a mudroom to get the dirt off you before you enter the living spaces of your home. Making the mudroom filled with personality and decor is a great way to keep yourself cozy when you're cleaning up. Not only this, but it will add a sense of charm to the space that will keep people happy and impressed when you ask them to clean up and take their shoes off before entering your well-curated farmhouse.
9. Family Heirlooms
Family heirlooms are a fantastic way to customize the personality and aesthetic of your home. They make you feel down-to-earth, unique, and interesting. Whether you're hanging them on your walls or placing them in a fancy cabinet, these heirlooms are another way to start conversations with anyone you host. Additionally, they will remind you of your family history, and keep your soul happy.
10. Family Photo-Covered Hallways
Lastly, decorating your hallways with quirky, cute family photos is the final way to emphasize the farmhouse aesthetic with your home's decor. This is one of the simplest ways to boost your home's style, and it can help you smile every time you walk through your home (boosting your mental and spiritual health as a result).
Your Dream Farmhouse Awaits
No dream home is complete without a cohesive, comfortable, and smile-creating decor aesthetic. With the suggestions on this list, you can begin undertaking projects that will make your farmhouse picturesque. Not only will this make you and your guests feel right at home, but it will boost the equity and saleability of your home in a massive fashion. Here's to your future dream house, and to you achieving the perfect farmhouse aesthetic for your home's decor!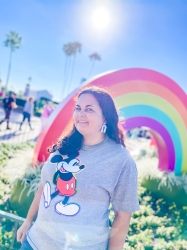 Latest posts by Krystal | Sunny Sweet Days
(see all)