6 Ways to Save Money on Produce at Aldi
You have probably heard that Aldi has the hottest produce deals around, and the truth is, they DO! Whether you want organic, specialty items, or plain old apples, Aldi offers hot deals on cold produce, ready for all your snacking and baking needs. Look below at 6 ways to save money on produce at Aldi, so you can stock up on all the healthy eats you need without going broke.
1. Be sure to check out the sales flier. One of the highlights in the weekly sales flyer is the produce. It will always be front page and center ready to be discovered. Before you start shopping, view the sales flier and see what the weekly produce deals are. Then you can plan your shopping strategy and weekly menu around the produce sales. If you don't have a flier in hand, you can always access one on the Aldi website. They update it weekly!
2. Buy apples by the bag. Aldi offers excellent deals on 3-5 pound bags of apples. You can often score a bag for as low as $3, really getting a good amount of produce for your money. At most grocers you would pay $1 for two lunch box apples, so their apples by the bag are a steal. Another hot bagged produce deal? Clementines!
3. Frozen fruit is still a great deal. Calling all healthy eaters! If you enjoy making smoothies, frozen fruit may be a good option for you. You can score a bag for as little as $2, and the fruit is perfect for blending. If you are looking for tropical fruits especially, check out Aldi's frozen fruit section.
4. Weigh before you buy. Aldi offers scales so you can weigh your purchases before you buy them. If buying produce by the pound, be sure to weigh the bag so you can be sure you are staying in your budget. For packages that are pre-weighed, weigh them again and make sure you get the heaviest for your price! You would be amazed how much pre-weighed produce items can vary.
5. Organic finds are always a good bet! While Aldi doesn't have a huge organic produce section, they do have some basics at a great price. You can find organic apples, bananas, and even avocado for far less than most grocers. If an organic diet is important to you, browse the organic section (typically close to the end cap) and save.
6. Don't forget the bagged salads. Are you craving a salad? You can find fresh bagged salads for as little as .99 cents in the refrigeration section. This is much less than the cost of buying lettuce, carrots, etc. and making your own. Consider the fresh bagged salads when you are craving veggies. For a buck, you can't go wrong!
Are you ready to fill your fruit bowl for less? Consider these 6 ways to save money on produce at Aldi, and see how they can help you find the hottest deals. You can also double up on savings and learn how to save money on meat at Aldi!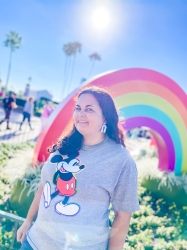 Latest posts by Krystal | Sunny Sweet Days
(see all)