6 Ways to Save Money on Meat at Aldi
Aldi is a hot spot for deals on produce, dairy, and of course your favorite home goods, but did you know that Aldi also offers some of the hottest deals on meat? Whether you are looking for chicken or steak, Aldi has an expansive meat section so you can find exactly what you need. Look below at these 6 ways to save money on meat at Aldi, so you can stock your fridge with quality meat cuts for less.
1. Find out what the weekly markdown day is. Most Aldi stores have their own weekly markdown day. This is the day that most meat items are reduced for a quick sale. Ask an employee when this day is, so you can be sure to stop in and see what has been recently discounted.
2. Look for the bright red peel-off coupons. You may see bright orange stickers on some of the packages of meat, inviting you a $2-$3 discount off the package. These are also reduced for quick sale items, and priced to move quickly. If you see some stickers, snag the items. You can always freeze them for later.
3. Consider frozen meat options. Speaking of frozen meat, don't forget to look in the freezer section for deals on hamburger patties, frozen turkey, and other frozen meat items. Frozen meat will always cost less than fresh, so it is worth browsing the offerings. You can find it seasoned and nonseasoned, breaded and non!
4. Enjoy weekly sales. Most Aldi stores offer a meat special on Wednesdays. On this day there is a special sale and it is first-come, first-served. Find out when the sale day is at your local Aldi so you can be sure to swing in. You never know what the sale product will be, but if it is something you use often stock up!
5. Don't skip the famous ham. Aldi is famous for its ham deals. The good news is, they offer these deals at numerous times throughout the year! You can find bone-in ham for as low as .79 cents a pound! There are so many ways to cook ham, so when you see it on sale stock up. You can use it in ham salad, ham sandwiches, and so much more.
6. Check out the ethnic food section. Aldi has an ethnic food section with all sorts of antipasto meats, cold cuts, and gourmet sausages. Be sure you check out this section for deals on these specialty meat items. They tend to go on clearance often, and are great for parties and entertaining!
Walking into your local Aldi store is a great way to save some cash right off the bat. But keeping these 6 ways to save money on meat at Aldi in mind can help you save even more. Give them a shot the next time you shop and see what a difference they make. Plus, don't forget that there are major savings on produce at Aldi too!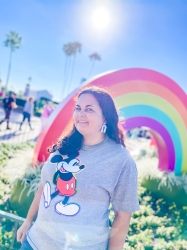 Latest posts by Krystal | Sunny Sweet Days
(see all)