20 Tips to Save Money at Disney
When it comes to family vacations, there is no place more magical than Disney World. However, the magic comes with a hefty price tag. Money We Have estimates that the average price for a family of four for a week-long vacation at Disney World is $5,726. In some cases, the cost can run as high as $10,000!
Your eyes must be bugging out of your head right now.
But, there are ways to save money and to help bring that price tag down. To start with, downloading a free budget template can make a great foundation as it will show you where the bulk of your income is going. Aside from that, there are several other things you can do that will have you worrying less about the cost of the vacation and leave you happy and enjoying the memories you will make. Here are 20 tips to save money at Disney World.
How to Save Money at Disney
#1 – PLAN YOUR VACATION EARLY. You should not fly by the seat of your pants when it comes to planning a Disney vacation. For starters, Disney World in itself is confusing. There are four theme parks within Disney World, two water parks, and over 140 restaurants, not to mention the constant comings and goings of traffic and people within the park. You can do the research yourself and buy your tickets either on the Disney site or at discount sites. You can also buy your vacation package yourself, or you can hire a Disney travel agent to help you with booking a vacation package.
I highly recommend the travel agent, as it is less of a headache than trying to do the research yourself. Plus, you will get the best possible price on your trip!
#2 – TRAVEL DURING THE OFF SEASON. There are going to be times that you have to pay more to go to Disney World, especially around major holidays. The best times to go to Disney are in September (after Labor Day), in late January, and in February. Also, much of October and November are good times to go, excluding the major holidays, of course. You can consult the Disney Crowd Calendar to get a sense of when things will be the busiest. This Disney World crowd calendar can also help too!
#3 – STAY IN HOTELS OFF OF THE DISNEY PROPERTIES. If staying at a Disney hotel is something you or your family can't live without, the most reasonable one is Disney Springs, which puts you right in the middle of the magical world of Disney for a much more reasonable price per night.  You can also stay at the Value Tier at any on-site hotel. It starts at $110 per night and comes with all the same perks of any Disney resort:  free park shuttles, pools, food courts, and free transportation to and from the Orlando airport.
However, you can save money and have fun by staying in a hotel off Disney property. There are plenty of hotels near the park and even a few miles from the park to where you will save money and still have fun.
#4 – USE THOSE CREDIT CARD POINTS. Some credit cards have points that you can use to pay for Disney tickets. Check with your credit card company and check with your points system to see if you can use those points.
#5 – USE THE DISNEY VACATION CLUB. Think of the Disney Vacation Club like a timeshare. It is either a property that is part of a Disney World resort, or strictly a room. It allows you to enjoy all the deluxe resort has to offer while paying the price of an average rental.
To get these discounts, don't book through Disney World. Rent any Disney Vacation Club points through a Disney Vacation Club owner or by going to a site like David's Vacation Club Rentals and renting club points this way.
#6 – SIGN UP FOR MOUSESAVERS AND DISNEY EMAILS. Mousesavers is a site that is dedicated to saving you money on Disney vacations and has a newsletter full of deals. In addition, Disney has emails you can sign up for to save on hotels, dining plans, and more. Take advantage of these helpful resources.
#7 – AVOID THE PARK HOPPER PASS. The Park Hopper Pass is where you can come and go as you please between all four of the Disney World Parks:  Magic Kingdom, Epcot, Disney's Hollywood Studios, and Disney's Animal Kingdom. But if you're at Disney World for longer than a day, these passes aren't worth it, and will cost you about $55 extra per ticket, per person. Save that money and buy a regular ticket instead.
#8 – USE DISNEY GIFT CARDS. Being a member of Sam's Club can be beneficial when it comes to going to Disney World. You can buy Disney Gift Cards at a discount and have them delivered electronically or by mail. For instance, there are some deals where you are paying less for $500 in Disney Gift Cards. Fund either part of or your entire trip through Disney Gift Cards and you'll save yourself some money.
#9 – BRING YOUR OWN FOOD AND WATER BOTTLE. In case you didn't know this tip, bringing your own snacks and your own food is absolutely allowed. You just can't bring knives or anything in glass. The prices for food at the parks is expensive. According to an article in USA Today, even quick-service, fast-food restaurant meals can cost $14.99 per person. A large soda at Disney World can cost $3.00. Bring your own snacks, munchies, and meals into the park, and it can cut down the costs.
Bottled water is also expensive at Disney World. You can carry a refillable water bottle around to stay hydrated, or you can ask for a free cup of ice water at any of Disney's quick-service restaurant locations.
Disney DOES have Dining Plans, and some vacation packages offer free Disney Dining Plans. But the Disney Dining Plan is not a necessity when you're looking to cut costs.
#10 – COOK YOUR OWN MEALS. Are you lucky enough to be in a hotel room with a kitchen? You can go to a grocery store near your hotel and stock up on groceries. Buy various meals and snacks that you can eat while you're at Disney World. Even if you just cook one meal a day, you're doing your wallet a favor.
You can also have groceries delivered to your hotel room through any number of delivery services such as Amazon Prime Now to save you that time.
If your hotel room has no kitchen, make sure you are either staying in a hotel that has a free continential breakfast, or that you buy quick breakfast items and snacks to take with you into the parks. You might like to book a Disney character breakfast early in the morning (gets you into the parks earlier and the prices are cheaper than lunch or dinner!).
#11 – MAKE A MEAL OUT OF DISNEY SNACKS. If you do get park food, some Disney snacks are more like meals. For example, the infamous giant turkey leg will leave you full and satisfied for less than the price of a quick-service meal.
#12 – JUST ORDER THE ENTREE. Again, if you really want to get some of the park food, just buy the entree at any quick-service restaurant. You can order a burger without the extra side of fries and save money. You can also feel full this way without getting overstuffed and sick on a ride.
#13 – SKIP THE PARK SOUVENIRS. Walt Disney World is full of souvenir shops that sell stuffed toys, t-shirts, and the famous ear hats. But buying souvenirs in the park can add up. Unless you set a souvenir budget and stick to it, you're probably better off buying any Disney souvenirs out of the park. Fortunately, Orlando has a lot of stores in the area that sell Disney souvenirs for much cheaper.
#14 – TAKE ADVANTAGE OF THE FREEBIES. Instead of buying park souvenirs, you can take advantage of park freebies!
Club Cool Coca Cola Samples at Epcot

Collector Cards from any Disney transportation service

Sorcerers of the Magic Kingdom Game from the Main Street Fire Station

Kidcot Fun Centers in Epcot (currently they are handing out personalized postcards from each country)

Autographs from Disney characters

Stickers and Celebration Buttons

Balloons from the front desk at any Disney resort
#15 – DO FREE PARK ACTIVITIES. In addition to freebies, you and your family can do free park activities.
Campfire Sing-Alongs at the Ft. Wilderness Resort and Campgrounds

Agent P's World Showcase Adventure at the World Showcase at Epcot

A Pirate's Adventure (between Frontierland and Adventureland in the Magic Kingdom)

Wilderness Explorers (at Disney's Animal Kingdom)

Kidcot Activity Shops (you can sit and color and relax in the shade!)
#16 – PLAN A NON-PARK DAY. Riding the rides and walking around all day at Disney World can get exhausting. Rest and recharge during your Disney vacation by planning a non-park day. You can swim in your hotel pool, roast marshmallows at your hotel, eat at Chef Mickey's, explore the resorts, window shop, play mini-golf at Fantasia Gardens, grab dinner, drinks, and a movie at Disney Springs, and watch the fireworks at the end of the day at your hotel. All of these local activities still provide the Disney experience.
#17 – USE PHOTOPASS PHOTOGRAPHERS. Photos, especially vacation photos, are a visual and tangible way to preserve memories of your vacation. Yes, you can buy pictures at the park for a flat fee, but did you know that you don't have to spend a ton of money on pictures? PhotoPass photographers are set up all over the park, and they will be happy to take your family picture with your phone or camera if you ask. Now you get a cherished photographic memory at the park for free. You can also find a Disney Photopass Studio at Disney Springs too!
#18 – TAKE THE MAGICAL EXPRESS. The Magical Express is free transportation to and from the Orlando International Airport. If you sign up to stay at a Disney resort, you are sent baggage tags to put on your baggage. That way, when you land, you just go straight to your resort and your bags are delivered via the Magical Express. It adds time to your trip, but saves you money, since an Uber from the airport can cost you anywhere from $45.00 to $50.00 and parking fees at Disney resorts can range from $13.00 to $24.00 depending on the length of your stay.
#19 – BRING YOUR OWN STROLLER. A stroller is a great idea if you have kids under the age of five. You can bring your own stroller from home, or you can rent from a company such as Magic Strollers, which will cut down on the cost of renting a stroller directly at Disney World. Those park stroller can cost you up to $15.00 a day, and you can't take the stroller outside of the park. With companies like Magic Strollers, you can take the stroller wherever you want.
#20 – BRING YOUR OWN PARK ESSENTIALS. Buying the essentials and the things you need on site will cost you more than if you purchase them before you come to Disney. Here are some things to consider buying before you leave for your Disney vacation:
Ponchos

Sunscreen

Cooling towels and/or a misting fan

Sunglasses and hats

Glow sticks and light up toys

Costumes

Character autograph book

Disney pins and lanyards

Spare change (for souvenir pennies)
Every family's Disney experience is different, as is every family's budget. But if you are a budget-savvy family looking to save some cash, use some or all of the tips on this list. It also goes without saying if you are planning on driving to Florida, make sure your car insurance is up-to-date! 
Bio:  Brandy Clark is a freelance copywriter at autoinsurance.org and likes to write horror for fun. When it comes to horror, the best horror movie is John Carpenter's The Thing. She resides in Missouri with her two dogs, Layla and Hayley. When it comes to Disney, her favorite character, since she was a kid, is Donald Duck.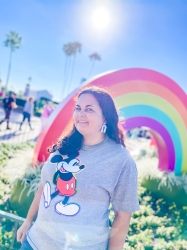 Latest posts by Krystal | Sunny Sweet Days
(see all)