5 Tips for Your First-Ever Trip to Disney World
Your first-time visit to Disney World will be an exciting and amazing experience, whether you go there alone, with friends, or with family. However, to make sure everything will go right from the first try, it's best to do a bit of research. This way, you'll know what to expect, and you won't feel intimidated by the sheer magnitude of the place.
If you are travelling from another country then you may need essential things like Simify and Sims Direct travel SIM card. You'll get connected as soon as you land so your communication with loved ones will be smooth and hassle-free.
Since we know the Magic Kingdom can be a bit confusing and intimidating at first, we put together a few tips to help guide your first steps.
1. Find Out More Before You Go
You'll often hear people complain that a trip to Disney World is expensive or that the place was really crowded when they visited. But don't let this discourage you!
Disney World is indeed one of the busiest theme parks on the planet, but this doesn't mean you can't have a good time. Plus, if your schedule is flexible, you can plan your visit to avoid the busiest months (usually during summer and around holidays).
When it comes to pricing, it all depends on when you buy your tickets and how you take advantage of all the available discounts and opportunities. In all fairness, sometimes discounts come with a time limit, but you can use Park Savers' in-depth guides to stay up to date with the news from the Magic Kingdom.
In summary, if you plan your trip and buy your tickets in advance, you won't have to dig into your savings for a trip to Disney World. As a bonus, here are a few more tips on how to save money on a trip to the Magic Kingdom.
2. Use the Official Disney App
The Disney World app is a must-have (next to your water bottle and snacks, but more on this below)!
You can link your park tickets in the app, which will make it a lot easier to handle the tickets while going through the security screening (yes, there's one at the entrance). Once this is done, you'll get valuable information through the app, like wait times for rides, offers, and events. Plus, you can purchase Genie+ and Lightning Lanes whenever you want.
The app also helps you find restaurants and restrooms, which can be a lifesaver when it starts to get busy. Plus, you can check out the photos taken by Disneyland photographers through the app.
3. Look Beyond the Rides
Let's be honest here – the rides are probably the main reason why you want to visit in the first place. I mean, who wouldn't want to go on Tron or on Big Thunder Mountain Railroad (to name two of the multitude of rides)?
But once the excitement of the rides wears off, you'll start to see there's a lot more to the Magic Kingdom. Besides the general atmosphere, which is amazing, you also need to see the parades and nighttime performances!
These events change from one season to another, so there's no chance you'll get bored on your second and third visit.
4. Don't Forget about the Merch
Kids love Disney merch because it lets them experience the magic outside the park as well. But adults can also have a blast at the merch stands!
And if the merch is free, you'll appreciate it even more. At Disney, you can get a free button for your first-time visit if you go by guest services or most gift shops.
Another thing you can get for free is character autographs. These are also collectibles, but also a nice way to remember your visit.
5. Get Snacks & Drinks
Snacks and drinks inside the parks are overpriced, so if you're on a budget or don't want to spend your money on snacks and drinks, you can get your own.
Just make sure to get snacks that can withstand the heat (especially during summer) and provide nourishment. For drinks, we recommend water, but you can take any non-alcoholic drink you want. Plus, there are water stations throughout the parks, so you can refill your water bottle whenever you feel the need.
Wrap Up
Disney is truly a magical world, and the staff is well trained in hospitality and customer service. So, even though it may feel intimidating at first, you will definitely have a good time!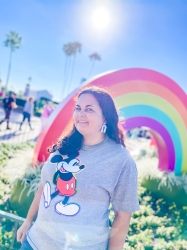 Latest posts by Krystal | Sunny Sweet Days
(see all)