Most Popular Styles for Wedding Venues in Vancouver
From old estates to grand ballrooms to modern lofts … There is an overwhelming variety of wedding venues in Vancouver today. Find out what types of wedding venues in Vancouver are available for contemporary, luxury, alternative, vintage, and country weddings!
Contemporary Wedding Venues
A traditional wedding may not be for everybody. A modern wedding venue might be for you if you want something simpler and more modern than lace and royal icing. Here are our favourite contemporary venue options in Vancouver to help you choose the perfect place for your big day.
Hotel
Many hotels are popping up in Vancouver, and they are great for contemporary weddings. Check out their function rooms, restaurants, and lounges, so you know what you're getting into. Additionally, you and your loved ones can stay the night after the wedding, so you won't need to find lodging afterward.
Banquet Hall
With floor-to-ceiling windows and skyline views, modern downtown office towers are becoming beautiful venues. Outlying areas of Vancouver also have banquet halls with a contemporary design. With these stylish spaces, you can have in-house catering, rentals, and a lot more you can customize for a modern celebration.
Restaurant
A restaurant wedding venue is perfect if you're a foodie couple. A lot of restaurants offer buyouts so you can have the place all to yourself on your special day. Plus, you won't have to search for the right caterer with this modern wedding venue style.
Alternative Wedding Venues
It's more creative than ever to get married these days. Today's couples want non-traditional wedding venues where they can incorporate their interests and plan something completely unique. Here are some of Vancouver's hottest alternative wedding venues!
Bar/Cafe
Do you have a favourite bar or cafe you can't get enough of? Consider having your big day there so you can celebrate your wedding the way you want.
Art Gallery
There's no doubt that an art gallery is one of the trendiest venue ideas here. Gallery weddings are awesome, whether you're surrounded by modern art or old classics.
Museum
You can find something to suit your style and size at one of Vancouver's great museums, both in the countryside and in the city centre.
Library
You're a bookworm, aren't you? If you're looking for somewhere swanky and quiet to tie the knot, the library can be a perfect choice. You can't beat a small local library, especially if you're watching your budget.
Industrial Space
Are you looking for something bigger and with a little more industrial vibe? Getting married in a warehouse or loft space is an affordable way to host an unforgettable event, all you need to do is find one!
Rooftop
Do you know of a cool rooftop garden or a gorgeous cityscape? It's a pretty cool idea, and we'd suggest summer for this type of celebration.
Vintage Wedding Venues
It's obvious you'll love vintage wedding venues if you think you were born during the wrong time period. That's settled, now let's look at the various styles of vintage venues. Vancouver has no shortage of vintage wedding venues, from historic homes to museums to castles.
Historic Home
There are a lot of vintage wedding venues out there, but the historic home is one of the most popular. Decor rentals don't have to go overboard because these usually have chandeliers, ornate crown mouldings and classic pieces. Plus, they usually have a lot of lawn space so that you can hold an outdoor event there.
Castle
There are a lot of castle wedding venues in Vancouver that you may not have heard of. Many of them have huge lawns, spacious reception halls, beautiful gardens, and dining halls, so they're great for big celebrations. The good thing about these places is they've usually been repurposed as hotels, so once the party's over, you and your loved ones can stay there.
Theatre
Are you looking for something different? Make your big day memorable by booking a theatre. The velour-covered seats will make your nearest and dearest feel like they're watching a star-studded show as you exchange your vows.
Country/Rustic Wedding Venues
Rustic weddings are more natural, more boho, and less polished. Think about a forest wedding with branches and leaves. Or barn celebrations with organic flowers. Any wedding that's laid-back, unpretentious, and nature-focused can be considered rustic.
Barn
Barns are full of rustic charm. Many are set in quiet countrysides or on ranches or farms, but they all offer a gorgeous pastoral ambiance.
Campground
Fans of the great outdoors and wildlife enthusiasts gather! Give your loved ones the gift of a summer camp-style celebration for your rustic party to make it more than just an event.
Ranches and farms are perfect settings for rustic weddings! Ranches and farms can be incredibly versatile, with everything from an elegant farmhouse style to locally sourced food. No matter your style, you'll find a ranch or farm to suit you.
There you have it, Vancouver's most popular wedding venues. Choosing your venue and finding your style is next!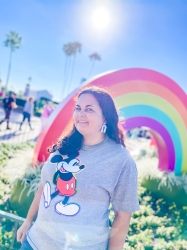 Latest posts by Krystal | Sunny Sweet Days
(see all)