Top 6 Ideas For Kid's Entertainment
Having a form of entertainment for kids wherever you go is super important. Different types of entertainment can have a variety of benefits for children – physically engaging to improve motor functions, cognitively engaging to build emotional intelligence and, of course, it can give adults some well-deserved peace and quiet for a while! It's difficult to find something that will suit everyone and make all the kids happy, but here are the top 6 ideas that are bound to keep the children occupied and having fun.
Arcade Venues
The great thing about arcade venues is that there is such a large range of games to enjoy, and Florida is very lucky when it comes to this form of entertainment! One of the largest amusement vending operators in Florida provides arcade venues across the state with games like pool and air hockey, racing games, and crane machines, so they'll be something for everyone to enjoy. Watch the kids get competitive and tire themselves out as they hop from one game to another, they'll be mentally fulfilled and exhausted by the end of the arcade session.
Play Parks
With the introduction of so much technology these days, it's important to remind kids that the outdoors still exists and that there are endless possibilities when it comes to fun. Simply going to your local playground can be a way to get the kids out of the house for a bit of fun, or why not try going to one they haven't been to before?
Field Games
If they're bored of the climbing frame and slides, you can set up your own game in a field. There are endless playground games you can set up with little to no equipment. Here are some ideas you can try:
Capture the flag: have a flag (or anything you can find) for each team and a base for each team. Try to steal the flag without getting tagged by an opponent, and without the opponent stealing your flag too.
Treasure hunt: this one might need a little bit more planning, but you can hide clues and rewards around an area for children to follow.
In the middle: some of the kids are in the middle while other have to throw a ball to each other without someone in the middle intercepting it.
Make An "Activity Jar"
Sometimes what you think your kids will enjoy doing can be the complete opposite of what they want to be doing. Children's interests change all the time and as they grow, they may not enjoy what they used to so much. Making an activity jar is a great way for them to express what they're interested in trying and doing. Sit down with your kids and get them to write all the things they want to do on them (you can check them to make sure they're not completely unreasonable) and categorize them according to indoor and outdoor activities. Decorate a jar and put the activity ideas in, and then when you're stuck for ideas, you can pick an activity out!
Build A Fort
As an adult, you probably have fond memories of building forts and spending time in them. If not, now is your chance to get involved with the kids! Provide them with some blankets, pillows, and sheets to help them make a fort so that they can make their own little 'home'. They can watch movies under there, read books, and make it super comfortable. They'll spend hours of fun making and spending time in there, just make sure they clean it up afterward too.
Water Parks
Getting kids familiar with being in water and how to be safe around water is incredibly important. Water parks and swimming pools can be great ways of doing this, and it's great fun for them too. It's also an effective way to keep cool and busy on a hot day, and the parents can simply kick back and relax in the sun for a bit, while the children are under the watchful eye of the lifeguard. Once they're more comfortable and confident being in the water, there's nothing more entertaining for a kid than a day at the beach. Building sandcastles, playing beach games, and swimming in the sea are other great ways for them to have fun.
So now you know how you can keep kids entertained. Things like arcades, swimming, learning skills, and playground games are great ways to engage them physically and mentally. Just make sure you listen to the kids and try to compromise on what you end up doing as well.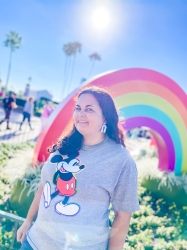 Latest posts by Krystal | Sunny Sweet Days
(see all)