I received a product in exchange for this review. All opinions are my own, and this item really was awesome.
It is SO hard to find gifts to wow my husband. I think he is the hardest person to shop for since he doesn't really use or need anything. I have always tried to give gifts that were "experiences" since buying actual items seems too difficult. Though, unwrapping an "experience" is not as thrilling. When Uncommon Goods reached out about a product review, I was stoked. They have been one of my favorite websites for quite some time now, and their inventory always amazes me. They have jewelry, unique gifts, and things that I have never seen anywhere else. As I browsed the website, I thought that I needed to give my husband something to celebrate his Shark Week appearance and adventure. The best way to celebrate? Whiskey!

This personalized whiskey barrel was perfect. I snagged the two liter size, and I thought about what to personalize it with. Since my husband's show on Shark Week was all about the legend of Old Hitler (Monster Hammerhead), I knew I had to somehow include that. There were spaces to personalize with a name, a date, you can customize the distillery, and include a location. I used the year my husband was born, his name, Old Hitler became a distillery (a pretty awesome name for a distillery if I do say so myself), and I added in Florida's Gulf Coast as a location.

I thought the quality of the barrel was awesome. You do have to add water to it and let it sit for a few days to let it seal. After that, my husband was ready to experiment. I let him take the lead on this project since it was his gift, and he chose black cherry and cinnamon.

First up? Add the whiskey! He used a funnel we already had at our bar to keep this mess-free.

He added black cherry concentrate that he found at a local natural foods grocery store, and he popped in two sticks of cinnamon.

The barrel is small so it speeds up the aging process. My husband turned the barrel every few days and had no problem taste testing the contents weekly. Did I mention he really loved this? I felt like, for once, I finally succeeded as a wife and gave him something he truly wanted (but didn't know it!). You can try these tips to Spice Up Your Cocktails: Try These Herbs in Your Next Drink Recipe.
Since I had so much fun going through Uncommon Goods' website, I decided to launch a holiday gift guide this year. I like quirky items that are easy to find but fly under the radar on someone's Christmas Wish List. Parents, spouses, bosses, and friends can be so hard to shop for! I'm looking to gather a few more ideas by October to share with you by Black Friday (so you can get your Cyber Monday shopping on!).
Who do you have trouble shopping for? What would you add to your whiskey barrel?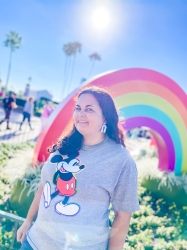 Latest posts by Krystal | Sunny Sweet Days
(see all)