What Are the Benefits of Wi-Fi Calling?
WiFi calling is an exciting alternative to traditional phone lines that offer tons of amazing benefits for consumers. There are several free or cost-effective apps on the market that offer unlimited calls and texts that can be transmitted over Wi-Fi. Although not a perfect replacement for normal phone service, it can come in handy in many situations. Here is a look at some benefits of Wi-Fi Calling.
Cost-Effective
The price of Wi-Fi Calling depends on how you make the call but is typically cheaper than a traditional phone line. Most large phone providers offer free Wi-Fi calling and calls inside the US and to the US are typically covered in your monthly plan. If your phone service does not offer free Wi-Fi calling, you can always download apps that let you make calls over Google Voice. As long as you are in an area with strong internet, your communications should be free. But beware of accidentally making calls using your cellular data instead of the Wi-Fi, because that can be a bit more expensive.
Make a Call from Anywhere
With Wi-Fi Calling you can make a call anywhere there is Wi-Fi. If you use a VoIP phone system, you can make free calls anywhere in the world as long as both parties have an internet connection. Different phone carriers have different rules when it comes to international calling. Most of the time, the call is free if you are making a call to a US number, even if you are abroad. But if you are making a call to an international number, the rules vary. Check with your specific carrier to find out what the limitations of Wi-Fi calling are if you're planning to travel outside the US and don't want to rack up a huge bill.
Supplement for Weak Coverage
One of the main benefits of Wi-Fi Calling is that you can use it to supplement areas where cellphone coverage is week. Perhaps the cell phone service inside your home is weak, and you don't want to step outside every time you get a call. Public places like airports, restaurants, schools, sports arenas, and other venues don't always offer the best cell services either, and it can be frustrating if you need to make an important call, and you can't get a signal anywhere. Wi-Fi Calling allows you to make a call that is crystal clear from anywhere you can get an internet connection. However, it may be a struggle to get connected to the Wi-Fi depending on where you are.
Wi-Fi Calling is an important trend in telecommunications and will likely become increasingly prevalent as more and more of the world has access to powerful internet. One day it may eclipse traditional phone lines entirely. But for now, it is a useful alternative that can help you cut down on your monthly cellphone bill and make calls in places you normally couldn't.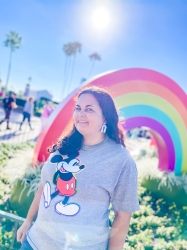 Latest posts by Krystal | Sunny Sweet Days
(see all)