Self-love: Why It Is Very Important To Appreciate Yourself
It's perfectly normal, and even healthy, to second guess ourselves from time to time. What isn't healthy is to find yourself constantly rejecting your own ideas through negative self-talk, as this will reflect poorly on all aspects of your life. To remedy this, you will need to work on your self-appreciation, so you can see and value yourself for exactly who you are. 
From this article, you can learn why self-love is essential in your everyday life and how you can benefit from it.
It Teaches Acceptance
Any act of self-care you take, whether it's done in mental or physical form, can be a reflection of self-appreciation and acceptance. The most helpful thing self-love can teach you is how to think more positively about yourself and not dwell on the things you can`t change. It will also make you believe in yourself more, so you can meet any challenge with a renewed confidence. Because you will realize that no one is perfect, and you shouldn't expect yourself to be either. And that doing your best will always be enough.
It Validates Authenticity
While yearning for perfection is a human characteristic, you can't forget that imperfections make each person unique. Self-love can help you explore and accept all your individual traits and teach you how to make the best of them. Embracing your uniqueness can be the perfect tool for learning to appreciate yourself even more, which in turn will strengthen your confidence in your individuality. It's a beautiful circle, and it's also the secret to live a happy and healthy life.
It Builds Confidence
Everyone has their strengths and their weaknesses. By exploring yourself through self-care, you will be able to build confidence in your best abilities. To do that, you first need to get rid of any negative thoughts about your inability to do certain things and only focus on what you can do. Doing what you are best at will make you a much more efficient communicator and worker. Not only that, by putting yourself first, you will increase your productivity because you will be confident enough to get all your tasks done. And when you accomplish them, you will be able to congratulate yourself on a job well done.
It Creates Social Connections
After you learn to appreciate yourself, you will be more inclined to spend quality time with your friends and family. Because if you have a better opinion about yourself, their expectations won't have much significance anymore. You will feel much confident about approaching them and making lasting connections. Wondering how to do that in this technology-oriented world? The trick is to engage in meaningful conversations. and at vertellis.com, you can find many ways to do that. Try playing a fun board game with your family or friends. This is guaranteed to strengthen your relationship with them, further encouraging your self-love journey.
It Benefits Your Health
A journey of self-acceptance will not only strengthen you mentally, but it will start to serve your health better as well. You will learn to listen to your body more carefully so you can give it everything it needs, whether it's more sleep, food, water, or exercise. Many people find it hard to sustain a healthy lifestyle for longer than a couple of weeks. But by loving and accepting yourself, you will be able to implement all the positive changes and make a long-term commitment toward them. This is particularly beneficial for conquering a specific health goal or finding a new one.
It Increases Compassion
By learning to be more kind to yourself, you can also learn how to be more compassionate towards others. When you're less preoccupied with your own feelings, you can focus on others more. Instead of spending your time and energy thinking about yourself, you will be able to notice everything about the people you surround yourself with. Who knows, maybe some of them have similar or even more significant confidence hurdles to overcome than you had. By conquering your own self-care goals, you can gain the ability to help them or at least feel more compassionate toward their situation.
Appreciating yourself the way you are, is probably the best way to get rid of your own negative beliefs, both about yourself and others. Instead of using all your energy to beat yourself down with negative thoughts, try focusing on building yourself up. This will help you appreciate all the achievements you gain, no matter how small they are. Because if you believe you can do everything you put your mind to, eventually everyone else will begin to do so.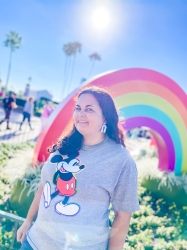 Latest posts by Krystal | Sunny Sweet Days
(see all)