How to Start a Video Game YouTube Channel
This post was created in collaboration with Turtle Beach. All opinions are my own.
If you are the parent of a child under the age of 10, you are probably familiar with the trend of gamer videos on YouTube and other video streaming services.
Regardless how you feel about the videos, personally, your kids probably love them. They will watch them repeatedly. Much to your chagrin. The ones producing these videos often draw millions of viewers and have 100's of thousands of followers. It will probably make you a little sick to your stomach to know that most of these videos' producers make upwards of six figures for doing nothing but these videos, considering most of them have all the production value of your grandma's Instagram account.
Chances are your kids want to be just like them. There's no reason why they can't.
Granted, they'll probably never reach the online popularity of a pewdiepie or that annoying little British kid that won't stop saying "goodness gracious!" once every two minutes. But that's not the point. Creating your own videos will give you a chance to bond with your kids over something they enjoy. And if you've ever seen any of these videos online, you know they don't even have to be that great to be popular.
You probably all have at least some of the technology needed —like a game console — to start sharing your thoughts on video games, the rest can be purchased relatively inexpensively. While there are a number of live streaming applications such as Twitch, which lets you broadcast your gameplay directly from your console, we are going to show you how to create content for social video platforms such as YouTube or Vimeo.
How to Start a Youtube Gaming Channel
Camera: This one is optional if you have a cell phone that has a decent video recording function but if you want the best results, you should have a dedicated camera or camcorder to record your face. I used my Nikon SLR since I am comfortable with the post production routine of importing it into my editing software. If you have a laptop with a built-in camera, this can also be used to capture video directly to your computer.
Tripod: If you aren't going with the built-in computer option, this is essential, especially if you are going with the cell phone to record your secondary video. This will ensure your video stays steady and that you will maintain consistency with your shots. You can also find stands that are specifically made for holding cell phones and can be easily found for under $20.
Capture Device or Card: This might be the piece of equipment that you'll actually have to purchase. These devices connect directly to your console's output and record it before relaying the signal to your television. These can range anywhere from $50 for an entry-level unit to over $1000 devices that can capture hours of 4K-quality video at a time.

Microphone headset: Audio is an oft-overlooked aspect on most gamer videos and poor audio can ruin an otherwise entertaining video. An affordable option that will give you quality results is the Turtle Beach RECON CHAT headset. The RECON CHAT easily connects to Xbox One and PS4 controllers via the 3.5mm jack and the large 40mm speaker along with Turtle Beach's Unique open ear-cup that lets you hear game audio from the TV or home entertainment system.
Their SpecsFit™design also makes them an ideal option for players that wear glasses. They are also a great set of headphones to use even when your not recording a video as the renowned high-sensitivity mic delivers crystal clear chat audio to and from other players during multiplayer gaming.

Editing software: Again this is one of those things that is dependent on how much you want to spend. Professional editing suite software will give you the best results and ultimately more control over your content but for most purposes a freeware or basic version will fit your needs. Most computers come with a basic video editing software already loaded in such as iMovie or Movie Maker that will let you do just about anything you need to do. Just make sure it has the capability for handling at least two levels on the editing timeline.
Online tool: Effortlessly enhance your channel's visual appeal using YouTube banner templates, even if you're not a design pro. Choose a template, personalize it, and maintain brand consistency across platforms.
How to make your video
Set up your "studio." Make sure it is well-lit and quiet. Avoid places where light will be directly behind you and turn off unnecessary appliances like fans or air conditioners. Choose a comfortable place to sit that will enable you to sit relatively stationary for a long period of time. If you need additional light use a lamp without shade placed out of direct sightless and behind the camera.
Set up camera at eye-level so that the top of the head to around the middle of the chest is framed up in the shot. Test it out to make sure their is proper lighting and no harsh shadows.
Simultaneously record player camera and stream capture.
Have fun. Be personable and make your video more than just sitting in silence while players stair vacantly at a screen.
When your broadcast is complete, import video from camera and capture device into editing software. Place main game play clip on the base video track. Resize player clip and place in corner of video screen. Trim from and back of video clips so that they correspond to each other on the timeline.
If your software allows, add title text at front of video timeline and credits on the end. This is a great place to advertise websites or social media handles.
Export video and upload to platform of your choice. Some, such as YouTube, even offer partner programs where you can make money from your video content.
That's all it really takes. As you go, you or your kid will eventually become more comfortable in front of the camera and you'll be able to pick up a few tricks in the editing process. You don't have to have a on of charisma in front of the camera or need Joss Wheedon-level filmmaking skills. All you need is a willingness to try. Who knows, it might even end up in a little bit of YouTube stardom.
Boys' Gift Ideas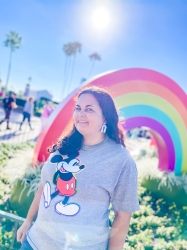 Latest posts by Krystal | Sunny Sweet Days
(see all)