Useful DIY Grill Station Ideas That You Will Love
Everyone is looking for ways to escape the stressful and hectic way of life nowadays. However, only a few have the space and ability to make their own grill stations where they can enjoy preparing their favorite food and rest on a couch.
If you are lucky enough to have a garden or patio, then you are among the best-qualified ones to consider and use some of these great DIY grill station ideas mentioned in this article that you can easily accommodate in your backyard. 
DIY Wood Grill Station
If you happen to have a paved outdoor area adjoining your house then you must get a grill station! If you are looking for a simpler and easy to assemble grill station then a wood grill station is perfect for you. Likewise, it also combines well with a charcoal grill. It is extremely simple, clean, and neat, but with enough power to give you the best grilling experience and more counter space as well as shelving storage. In addition, it usually has a tilt-out bin for trash, which will come in handy in every single use of the grill station.
The next awesome aspect of a wood grill is that it is extremely simple to build. You can start off by taking the measure of width and depth of the grill. Afterward, you can make the island frame by paving it with stone or brick. Once you get all these done, you are ready to assemble your wood grill station that you can use for years or even decades later!
Portable grill models
Portable grill models are perfect for almost all possible occasions. Moreover, they are extremely user-friendly and will take you no time to take them from one place to another. For instance, Weber Q3200 is a cart-mounted grill that you can neatly keep in your patio or backyard. It is designed for everyday cooking and is large enough to accommodate the needs of a big family.
The next great thing about portable grill models is that due to their rather lightweight and portability, you can easily take them from one corner of your backyard to another almost effortlessly. This way, you can DIY your own grill station practically wherever you want. Additionally, if you are traveling to another city or spending your vacation in your birth village, you can also take with you this amazing invention that will certainly make your vacation more memorable and enjoyable! In one word, portable grills of lighter weight are the most DIY-friendly models and will help you enjoy and eat better wherever you are!
DIY grill island
Did you know you can easily transform your garden by assembling a DIY grill island? The short answer is yes. First, make sure you never use your grill on the grass, but rather look for an inflammable firm, flat, and stable surface that can accommodate your grill with no obstructions. If, however, there is only grass in your backyard, then you may try to flatten with stone one part of it. This way, you can make a small stone grill island. Although it will take some space in the garden, it should not be too much.
What is more, it will break the monotonous image of grass and only grass. On the other hand, you will be amazed by the capacity of use when it comes to this grill island. Put simply, you can use it so often on so many different occasions and you will notice you are increasingly spending time outside rather than inside your house. In addition, your children will certainly adore it, which is great since instead of playing video games on their tablets, they will rather actively run and play outside while you or your partner is preparing lunch or dinner.
By the same token, you will buy and eat less fast food from the street restaurants. Now you will be more eager to prepare meals for your family yourself and in a healthier, cleaner, and cheaper way. And on top of it, you will do all these things with joy!
DIY outdoor concrete grill station
This one may cost you a little more time than other DIYs, but once it is done, it will certainly be worth the effort. These types of a grill usually consist of a metal frame, stucco, and then an ultra-durable concrete countertop. Although it will take both time and money to pull off, both your family and you will be satisfied with it since it gives a premium grilling experience!
Outdoor Kitchenette
There is hardly anything that can supersede the idyllic image of an outdoor kitchenette with an extension of an alfresco dining area. Just imagine bathing in the sun while surrounded by the trees in your garden, drinking ice-cold drinks, eating fresh and cold watermelon, and listening to the laughter of children playing on the lawn. On top of that, your kitchenette is a great place to accommodate a small grill station where you can get your favorite meals in no time!
Indeed, an outdoor small kitchen is an awesome addition to your garden and home in general. This is because it is highly useful and instead of spending hours inside of your home, you can relax on a chair or a couch under a parasol while waiting for lunch. On the other hand, you can also jump into the role of a chef and prepare some awesome food that will amaze your guests.
Another great thing about this awesome grill station is that there will be no traces of smell in your home since you will do the cooking and grilling part outside. Furthermore, a grill station within an outdoor kitchenette can come in handy in so many different situations such as family meetings, birthday parties, intimate time with your partner, and so on. It will certainly put all these moments on a whole new level, and make them memorable!
Who would have thought that making your own oasis of peace was so easy and doable? Make sure you take some of the useful pieces of advice from this list and enjoy your next homemade lunch from the grill station!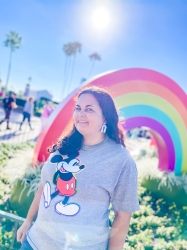 Latest posts by Krystal | Sunny Sweet Days
(see all)