Seven Savvy Tips from a Frugal Traveler
There's only a month or so left of summer, but that gives us just enough time to squeeze in a vacation before sending the kids back to school. If spending a huge sum on a fancy getaway for the family isn't possible (nor is it particularly prudent), then check out the following tips for frugal traveling.

Accumulating Airline Miles
One of the best ways to reduce the cost of flights is to accumulate airline miles with a credit card. Some cards have special offers, such as "Spend $___ in __ months and get __,000 miles" or double (and in rare cases, triple) miles for certain categories of purchases, such as dining, entertainment, or gas. The key is to find a good credit card for your spending habits, preferably one with no annual fee and a low APR. Some people accumulate so many thousands of miles that they qualify for free flight tickets.
Finding Cheap Flights
If getting an airline miles card sounds cumbersome (or you want to avoid credit cards for whichever reason) then there are still plenty of ways to save money on flights. One way is to look for special discounts, such as AAA, military, student, or senior. Another way is to cost-compare by browsing discount flight sites such as Kayak, Orbitz, and Expedia. Be sure to continue deleting your internet cookies, because these sites are notorious for raising prices if their tracking systems notice you checking their sites frequently.
Free Accommodations
This is trickier if you're traveling with the whole family, but if it's just you and your spouse, then finding free accommodations could be rather simple. If you're feeling adventurous, check out Couchsurfing.org to find people around the world who are willing to let you crash in their guest bedroom or on their couch for a night or two, free-of-charge. If you would consider swapping homes with another homeowner in a different city/state/country, then check out Home Exchange. If you're going abroad and wouldn't mind volunteering some time in exchange for free room and board, then check out the HelpX listings for positions in different countries.
Hostels
Hostels are generally more popular among twentysomethings and solo travelers, but a family traveling on a budget can still stay in private rooms in hostels, which cost significantly less than hotels (though note that some hostels have minimum age standards for children). Hostelworld is one of the best online resources for finding quality hostels within your price range.
Saving on Food
No matter where you go, you're going to have to buy food, and if your accommodations don't come with a kitchen, then you're going to be eating out quite a bit. One great way to save on food for travel within the US is finding Groupon deals for restaurants in your destination, or even food and dining coupons from SumoCoupon. Be sure to splurge at least once on a fantastic meal during your vacation; asking the locals where the best place to eat that won't cost an arm and a leg can be more helpful than browsing through restaurant reviews on Yelp (though Yelp is another highly recommended resource).
Tourist Traps
Last but not least, you're probably going to want to check out the tourist attractions at your destination, but those could consume the biggest portion of your budget, if you're not careful. Check around for special discounts, cost-compare tour companies beforehand (bus tours in large cities are particularly competitive), look for 2-for-1 deals, and check online reviews of the tourist attractions. You may find fellow travelers advising you against a certain attraction if it's simply not worth the price, or better yet, you might find some good advice on saving on admission prices from those who were there before you.
Travel Tips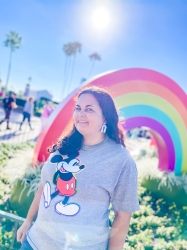 Latest posts by Krystal | Sunny Sweet Days
(see all)