4 Budget-Friendly Activities to Do in London
If you want to explore a European city that's rich in culture, history, and heritage, then visit London! In fact, London is an iconic capital that has become a must-visit city for every travel enthusiast, and for the right reasons. This British city still remains one of the most attractive tourist spots in the world as millions of people come to visit here every year. 
But many travelers often dismiss the idea of exploring London due to misconceptions of requiring big pockets to truly enjoy it. But, you don't have to halt your plans, as we are here with budget-free ways for you to have the time of your life in London. Yes, you read that right.
The reality is, you can discover all of London, from iconic sightseeing spots to fun activities without spending all your life savings.
Let us be your official guide you England's favorite city!
1. Roaming Through the Parks of London
Parks are one of the biggest attractions in London. You'll get a refreshing feeling while roaming around the beautiful gardens of London's famous parks. Best part? You get to enjoy some of the most beautiful parks in London without spending a dime. Whether it's a casual walk or picnic with families and friends, these wonderful parks are perfect for almost any occasion. Here are some of the best parks in London that you might want to check out:
When it comes to mentioning some beautiful parks in London, Regents Park should be first on the list. This large park of around 410 acres is full of historical significance and also a great sporting arena for the locals. The rose garden, also known as Primrose Hill is a famous tourist attraction and the garden looks gorgeous. From there, you can enjoy the amazing view of the whole city which should be on your bucket list.
Hampstead Heath is one of the most favorite parks among common Londoners and is absolutely worth visiting. If you want to escape the bustling city life, this is the park you'd want to spend your free time. Although it's only 4 miles from the main city, you'll get to enjoy wildlife as well as forests in this park. If you want to have some outdoor fun in a budget-friendly way, exploring Hampstead Heath can save you some serious cash.
This Greenwich park is one of the oldest royal parks in London and it's from there, you can get an incredible view of the entire London. You can also take a good look at the famous Thames river from Greenwich park. It also has the Royal Observatory where scientists first made the mapping of the stars back in 1675. You can explore all of it with an entrance fee of only £10.
2. Exploring Art Galleries and Museums
There should be no doubt that London is a city where you get to witness some of the finest works of world-famous artists. That's why London is a paradise for art lovers because this city offers a wide variety of artistic cultures. So, if you are an art lover, you must visit the world-famous art galleries in London where some of the most beautiful art pieces are showcased for the future generation.
Besides, it's also a great way to save money on the go because most art galleries in London have no entry fee. Check out these amazing art galleries to cherish some wonderful art:
The Fashion and Textile Museum
If you're someone who loves fashion and wants to know about how fashion and textiles, this is a must-see for you. This museum gives you an idea of how fashion and textiles have been revolutionized throughout the rich history of Great Britain.
Westminster is a famous tourist spot in London, and its biggest attraction is the world-famous Tate Britain museum. If you want to know about the history of modem art, this is the place for you. History enthusiasts love this museum because it possesses some of the largest collections of ancient and modern artworks. From the renaissance period to the modern day, this the museum covers most of the masterpieces of famous artists like Edward Burne-Jones and J. M. W. Turner. The best thing is that you get to view all these amazing artworks for free.
The Tate museum has many networks and the Tate Modern is one of them. Just like Tate Britain, it showcases some beautiful views but this museum is specialized in contemporary art. If you want to enjoy some of the modern artworks of recent times, the Tate museum is your perfect destination.
Situated in south London, this stunning gallery is adorned with over 600 amazing paintings of world-renowned artists such as Canaletto, Gainsborough, and Rembrandt. This museum is built especially for public exhibition and it has free entrance for students. If you're a student, all you have to do is show your student ID card you get a free pass! It's great when you don't have to spend a penny to enjoy these wonderful paintings.
If you want to explore the historical archives and some of the most impressive collections from the past, London won't disappoint you. This city has some great museums where you'll find some amazing relics from the past. The entrance fee for these museums is very much affordable as well. Here are some of our recommendations for visiting museums in London:
If you love movies and want to know more about this art form, the Cinema Museum will definitely satisfy your interests. This museum contains some rare artifacts and relics that will give you a wide view of the origin of cinema. With £7 as an entrance fee, you can spend an entire day exploring modern cinemas.
The Natural History Museum
Want to spend some quality time with family around London? The Natural History Museum is a great way for learning history as well as enjoying the views. It's also one of London's main attractions as it has a wide collection of amazing historical artifacts. These historical archives are both informative and fun to watch, especially for the young generations. But the most impressive thing is the authority has made the museum free for the public. That means you don't have to pay for anything! But it's better to make a pre-booking for a smooth visit to this beautiful museum.
Apart from The Natural History Museum, Tate Britain also offers a great collection of modern and historical artworks.
3. Enjoying the Nightlife
London is known for its rich cultural festivities and you can a taste of it with the iconic nightlife in London. A wide variety of clubs, bars, and restaurants will keep you entertained throughout the night. Most fascinating thing is, you don't need a big wallet for enjoying the nightlife in London. So here are the best ways to explore London's famous nightlife on a budget:
Want cheap drinks in London? The happy hour is London's famous tradition where you get to enjoy drinks at a very low rate from 5 pm to 7 pm. Almost all bars in London sell their cheaper drinks and cocktails during these hours and it's great for people with low budgets. Some of the best happy hour drinks include Swift in Shoreditch, Thirst in Soho, and Batch in Peckham.
If you're into music and love to enjoy some local gigs and presentations, London offers some great venues where you can enjoy some great performances of local artists. Hootananny in Brixton is a great venue that often showcases various forms of music like folk, reggae, and ska.
4. Enjoying Local Food
A good day of outing seems incomplete without a tummy full of delicious food, and London offers plenty of restaurants for that. Since it's a multicultural city, you can go for various types of food menu and most of them are quite cheap. For instance, Chinatown is a famous place for budget-friendly meals. You can get the authentic taste of Chinese food at a fairly cheap rate.
But if you're looking for some local street food, Brixton Village can be a great place to visit. This area has around 20 stalls of street food and all of them offers some delicious and mouth-watering food item. Besides, if you're a curry fan and want some spicy Indian food, Brick Lane will give you some great food options. The best thing about these food places is that all of them are very cheap and compatible with your budget.
Conclusion
London is a majestic city that bears the heritage of the entire of Europe. Vising this amazing city can be a fun way to learn about British culture and its rich history. With these above-mentioned ways, you can get the true picture of this awesome city without adjusting your wallet. So, pack your bags and get ready to enjoy the capital of England in the most budget-friendly way.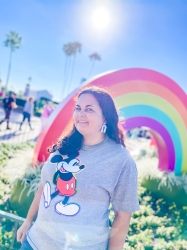 Latest posts by Krystal | Sunny Sweet Days
(see all)