This is a sponsored post with Mums the Word Blogger Network and RCI. All opinions are my own.
I have never traveled much. I do live in Florida though, so it's easy to hop aboard a cruise for a weekend getaway to The Bahamas or Mexico or drive south to Key West. Orlando is one of our regular stops since we are Disney Passholders for this year. I grew up in Tampa, so I am quite fond of the Gulf Coast beaches including Clearwater, St. Petersburg, and Siesta Key. Yet, I yearn to visit new places. I'm not a big fan of flying, but I'm SO ready to break out my unused passport and make a few stops.

Since it's a new year (and anything can happen with a fresh start), I started daydreaming about the types of locations I'd like to see in 2015. I also set a few travel resolutions so that I can track my progress. It's hard to hit a goal if you don't have a specific way to measure it or a deadline in mine.
2015 Travel Resolutions
Commit to taking at least one family vacation a year: I will not dream of amazing trips without making any of them come true! I will commit to making plans to travel. One easy way to ensure that you will travel each year is with a vacation ownership (or timeshare). With a timeshare, you are essentially buying your vacations in bulk so that you take regular vacations each year. Wouldn't it be nice to dream about your annual family trip?
See (at least) one new place each year: At the top of my travel bucket list is Germany, Yellowstone, and Charleston, South Carolina. I also want to head to New York City, California, and Las Vegas. I will certainly make one of these happen this year! This is another great benefit of vacation ownership. You often have the opportunity to purchase a vacation exchange membership through a company like RCI, which allows you to use your timeshare to travel to your choice of thousands of resorts in more than 100 countries. It makes it easy to see new places each year!
Make a travel budget: Unless I hit the lottery, committing to travel is going to take some budgeting. This means looking into cost savings during the trip. Great ideas include packing carry-on only bags to avoid fees if you are flying, cooking in your timeshare or vacation rental's kitchen for breakfasts and some dinners, and packing car snacks to avoid expensive (and unhealthy) fast-food chains in route to your destination.

What are your travel resolutions this year? If they include traveling more often, you may want to take timeshare for a test run through rental sites like EndlessVacationRentals.com, which offers great deals on a variety of accommodation options including vacation ownership. By booking through this site, you can rent a timeshare unit before you make a commitment to purchase, and see if this type of vacationing fits your lifestyle.
Where do you hope to visit this year? Try these Theme Park Travel Checklist.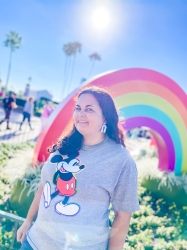 Latest posts by Krystal | Sunny Sweet Days
(see all)