How To Ace Travel Dressing As A Stylish Man
Travel dressing sounds tricky for men because they have fewer options than women. Most men prefer to travel light, so the options are even fewer during vacations. But you will definitely want to look your best in your travel pictures. The good thing is that you can make the most of a capsule packing list by styling your outfits wisely. But most men miss out on styling tricks and end up looking underdressed during vacations. Here are a few helpful tips to ace travel dressing as a stylish man.
Pack wisely
This one is a no-brainer for any traveler, regardless of age and gender. You cannot carry a lot of stuff because of baggage restrictions. But you may still make the most out of a minimalist packing checklist by being creative with mixing and matching. Carry the essentials and style them to create different ensembles during the trip. Remember to pack a few accessories because they can add an element of interest to your outfits.
Opt for solid top wear
Solid tees and shirts are the safest travel wear, even if you want to wear stripes and floral prints during a beach vacation. The good thing about solid top wear is that you can wear it to the beach, sightseeing excursions, and club nights. So you can repurpose the same pieces for several occasions. But you may opt for bright hues to skip the monotony and add variety to your pictures.
Prioritize comfort
While style goals should be on top of your travel checklist, you shouldn't miss out on the comfort factor. Even the best outfits may fail if you do not feel comfortable in them. Stylists recommend cargos as they look smart and get full marks for comfort. You can wear them on the flight and everywhere during the trip. They pair well with tees and shirts, so you have plenty of options to experiment with.
Be wise with accessories
Think beyond clothing when it comes to acing your travel look as a stylish man. You can carry a pair of comfy sneakers to start with, and pick an additional pair according to your destination. For example, flip-flops are ideal for a beach trip, and a pair of boots for a mountain vacation. Also, pack a cap, sunglasses, and your favorite watch. You may need warm stuff for a winter holiday, so do not skimp on gloves and scarves.
Stick with your personal style
Sticking with your personal style is the key to looking good while traveling. Of course, you may seek inspiration from celeb styles and travel dressing trends, but wearing what you feel good in is a foolproof styling hack. Always stick with your size and choose clothes according to your body shape because they promise classy drapes. Try new clothes at home before packing them for the trip to prevent unwanted surprises.
Travel dressing for men can be easy, provided they get creative and follow some rules. Check these tips to ace travel styling and fulfill your sartorial goals.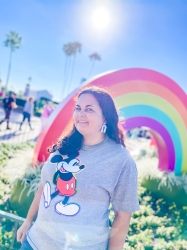 Latest posts by Krystal | Sunny Sweet Days
(see all)