Standing Desk Benefits | Flexispot Review
Are you feeling sore after hours at your desk? Are you looking for ways to make your home office situation more productive? A standing desk could be the answer. You may be familiar with sitting desks, but standing desks offer various benefits that can help you stay healthy, productive, and energized while working from home. We love standing desks so much, that's why we got the Comhar Pro Standing Desk Q8 from Flexispot! Let's look at why moms should invest in a standing desk.
Standing Desk Benefits
Reduce Health Risks: Relieving yourself from prolonged sitting is one of the greatest health benefits of switching to a standing desk. Sitting for long periods can lead to chronic health issues such as obesity, diabetes, heart disease, back pain, and more. When you can move more throughout the day—even if it just means standing up—you will reduce these risks significantly. Studies have shown that those who use a standing desk report higher energy levels and increased productivity when compared to those using sitting desks.
Ease of Use: Moms will love how easy it is to switch between sitting and standing positions with a height-adjustable desk. With just a few simple adjustments, you can reach your desired height or switch quickly between the two positions without having to invest in an entirely new desk. This makes it convenient for moms who want to transition quickly between activities while also enjoying the various health benefits associated with using a standing desk.
Flexispot Review
We received the Comhar Pro Standing Desk Q8 and found it very easy to put together. The enhanced structure and dual-motor lifting system ensure stability even when at maximum capacity and at the highest setting, which guarantees the security of your belongings. The 3-stage design allows for a wider broader height adjustment range from 24.0″ to 49.2″, which makes it even perfectly compatible with most of your family members.
Here's some more information from the site:
Brings extra cable-free experience and eliminates the trouble of plugging and unplugging the charging cable. It adapts to most wireless charging devices. Keeps your cords in one place to avoid them intertwining with each other. 28.3" x 12.8" x 1.97" drawer provides extra storage space for your home office supplies and keeps your things out of sight. Nothing beats the elegance of natural bamboo strip built into an ergonomic desk. It has twice the durability of ordinary wood, and a lacquer coating to help resist scratches, water and insects. The 55" x 28" working station offers sufficient space with 220lbs weight capacity, which can accommodate all your equipment for professional work and entertainment.

Flexispot
What's AWESOME about this desk?! You can create a height preset so that you can reach your desired height with ONE click! Also, perhaps the BEST part, is that this comes with USB charging ports! It's basically the BEST thing ever and can help this busy working mama charge while she works and also stay moving with the adjustable desk. I'm in heaven for sure.
A standing desk is not only good for your body but can also help increase your productivity and energy levels while working from home. Plus, they are extremely customizable so you can tailor them exactly how you want them no matter the size space, or requirements you have! So stand up and take notice of all the amazing benefits of using a standing desk! Moms everywhere will thank themselves later for making this small investment into their physical health and productivity!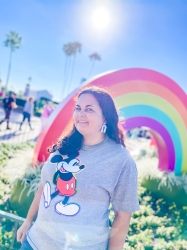 Latest posts by Krystal | Sunny Sweet Days
(see all)