Top tips for enjoying a spa day at home
We all know that self-care is super important, especially these days. It helps boost your physical health and mental wellbeing, reduce stress, and enable you to relax even during busy or difficult times. One tried and tested way to indulge in a little self-care is, of course, to treat yourself to a spa day. However, if that option is not possible for you due to time, cost, or COVID restrictions, then why not bring the spa to you? Here are some top tips for recreating that soothing spa experience at home.
Pick the right time
There's not much point in trying to have a relaxing spa day at home when the kids are running around causing chaos, you've got chores calling your name, or your schedule is packed with other commitments. Instead, try and find an afternoon when you have the house to yourself and your diary is empty so that you can truly unwind. Another top tip is to set up your spa day for just after you've treated yourself to the best laser hair removal service or other external treatment so that you can keep that self-care vibe going for as long as possible.
Upgrade your bath
A nice long soak in the bathtub is a key part of any home spa day, but not all baths are created equal. To make yours truly special, choose a luxurious bubble bath or bath salts with a relaxing fragrance such as lavender or chamomile. You could also drop in some scented oils for a little extra aromatherapy. Added extras such as a bath pillow can help you to feel more comfortable, while a bath tray with space for a book and a glass of wine can enable you to capture that indulgent feeling of a day at the spa.
Think about your surroundings
A big part of what makes a spa day relaxing is the ambiance, and luckily there are plenty of ways to recreate that at home. For example, find a soothing playlist on Spotify for some atmospheric background music, and use some scented candles instead of turning on your bathroom's bright overhead light. House plants are another great addition, with the benefits lasting far beyond your chosen spa day – having some greenery in your home is a fantastic way to bring a touch of nature inside and improve the air quality.
Focus on the mind as well as the body
Relaxing your body is one important aspect, but to completely destress, you'll need to relax your mind too. Putting away your electronic devices is a good first step, as well as engaging in some breathing exercises or meditation. It doesn't have to be anything complicated – try a few minutes of box breathing (breath in for four seconds, hold for four seconds,b breath out, hold for four seconds, and repeat) to help clear your mind, slow your heart rate, and reduce anxiety. That way, you can make sure you get the maximum benefit from your home spa day.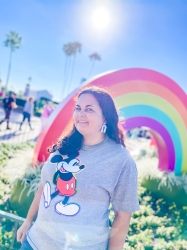 Latest posts by Krystal | Sunny Sweet Days
(see all)