Top Five Secret Places To Visit In Italy
Great Places In Italy To Visit
Italy is said to be one of the most romantic countries in the world. Some of its most well-known areas are Florence, Rome, Naples and Venice. Many visit Italy and only choose to tour these areas. After all, these are where some of Italy's most famous landmarks are. However, aside from these places, there's still much more to Italy. After all, Italy is made up of twenty different regions. Sadly, unless you're a huge traveler, you might have missed out on all the other amazing areas in Italy. Therefore, today, I'm here to share the top five 'secret' places to visit in Italy. These places aren't necessarily secret. However, they are off the beaten track and a secret to most. And if this is just the first stop on your world tour, be sure to check out https://exploringthisrock.com/ to find other amazing places. So, without further ado, let's talk about them!
Trento, Trentino
To kick off our list, we have the capital city of the Trentino region – Trento! Trento is an amazing city that allows you to experience the culture that is Italy. From food to art to culture, Trento has it all! However, unlike the bigger cities, Trento is far quieter and cleaner. This makes it a good choice for you if you aren't one for crowds.
The landscape of Trento is simply awe-inspiring. But that's true of most of Italy. If you are a skiing enthusiast, you'd love Trento as its quality of snow is perfect for skiing. It also has miles of slopes. If you prefer to indulge in art, history or culture, Trento has you covered too. There are castles, old churches and museums for you to discover. For example, the Buonconsiglio Castle is in Trento. You can easily spend a weekend here just wandering about and appreciating all there is to offer. If you enjoy discovering new places, there are tons of alleyways that you can turn down to explore. Alternatively, there's always the main square and the amazing Trento Cathedral for you to explore.
Matera, Basilicata
In human history, Matera is one of the longest-lived human settlements. It is probably the third oldest settlement, after Aleppo and Jericho. It is also extremely interesting and unique due to its cave-dwelling districts. These districts were once where the poor and diseased were thrown to. However today, it serves as an interesting tourist attraction. Indeed, these caves are fascinating as they were completely built from natural caves being excavated and extended. Matera isn't so much a secret anymore, especially not after being awarded Capital of Culture 2019. However, it is still less famous than the big cities in Italy.
Aside from history, you can also be sure to find great food at Matera. Matera, being an area once known for poverty, has its own culinary tradition. They use little meat and cheese in their meals. Instead, grains, pulses and vegetables dominate their cuisine. Here at Matera, you can expect to have simpler meals. This doesn't mean that they aren't delicious though! Like all Italian food, Matera food is amazing.
Mantua, Lombardy
Mantua is known as La Bella Addormentata – a sleeping beauty city. It's no wonder that Mantua is known as such because Mantua has changed little since the middle ages. Instead, it's cobblestone streets and ancient buildings are kept and preserved. This makes it a beautiful return to the past. Aside from that, Mantua is also home to the second-largest building in Italy, Palazzo Ducale. This palace used to be the home to the Gonzaga family, the dukes who ruled Mantua until the year 1707. Whilst much of it is closed to the public, you'd still be able to see beautiful tapestries, a glittering mirror-gallery as well as masterpieces by the master artist Raphael.
If you aren't a fan of touristy destinations, Mantua is a great place for you to explore. Whilst there are amazing attractions to see, there aren't an endless list of places to visit. You can take your time to wander about and explore the city. You'll find little to no tourists clogging up the streets. Instead, you'll be able to walk about and live as though you're just another Italian citizen going about your day.
Camogli, Liguria
If you're looking for a quiet visit to the coast, Camogli is the place for you. Unlike other coastal towns, Camogli hasn't changed much in the modern-day. Camogli still holds to its roots of being a quaint and traditional little fishing town. This makes it a secret spot within Italy. However, that doesn't mean that it isn't as picturesque. Camogli has colourful houses and beautiful architecture that makes it as picturesque! Like many places on this list, Camogli isn't visited by many tourists. And this means that it's a relaxed and quiet place to discover. You can wander the streets and simply enjoy the place. With small bakeries around, you can always pick up some delicious pastries for yourself.
Brisighella, Emilia Romagna.
Brisighella is the Italy that's seen in those old romantic films – rolling green hills of vines, castles overshadowing quaint red-roofed houses, and a sporty convertible flying by all of that. And yet, Brisighella is a secret location with little to no tourists bustling about. Instead, if you visit, all you will see is a quintessential Italian town. Beautiful buildings and sceneries, quaint cafes and gelato places waiting for you to visit – it's all as serene and peaceful as you dreamed off. Brisighella is a medieval village on the hillside between Florence and Ravenna. If you've visited Florence and need a reprieve from the crowds, Brisighella is a good choice.
Brisighella is known as the "The three hills village" because it's surrounded by three rocky hills. Each of these hills is home to an amazing structure – the first, a 14th century Castle, the second, an 18th-century church sanctuary and the third, a 19th-century clock tower. If you're looking to simply wander about, the cobbled streets of Brisighella are also great for strolling. You might even feel like you've been transported back to ancient times with your surroundings!
Whilst the big cities of Italy is amazing, the smaller, quieter towns and cities are equally amazing. They hold just as much culture, art and food as the rest of Italy. You just don't have to fight with other tourists to enjoy it! With our list, we hope we've provided you with a good starting point for truly exploring Italy. Aside from these five places, there are other amazing and 'secret' places in Italy too. And that's half the fun – discovering where the rest of them are!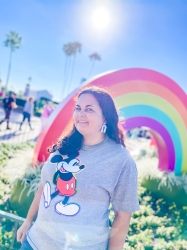 Latest posts by Krystal | Sunny Sweet Days
(see all)