Top 4 Ways To Remodel Your Garden
Are you looking to add some spice and charm to your garden? Whether it's adding bold colors, different textures, or creative structure, remodeling your outdoor space is an amazing way to spruce up your home and backyard. In this blog post, we'll explore some top ways on how you can successfully remix and revive your garden into something spectacular. From planting new flowers in fresh arrangements to creating unique points of interest with designs like pergolas or benches – let's discover what opportunities there are for turning the ordinary into the extraordinary!
Consider a vertical garden wall to add more color and texture
Vertical gardens are a beautiful way to enliven and bring life to an outdoor space. By simply incorporating a vertical garden wall into your backyard, you can easily add more color and texture to an area. Not only will it provide visual interest, but these plants don't require a lot of maintenance, either. Plus, with the ability to customize a vertical garden wall with an array of planters, you'll be able to create something unique that really brings character to your outdoor haven. So, spice up your space with some added color and personality today!
Replace outdated fencing, gates, and pathways with modern materials
Updating fencing, gates, and pathways around your property with modern materials like brick pavers or composite wood can add a modern look and serious value to your home. The fencing and gate supplies available today allow you to pick options that suit the look of your home and will last for years. Composite wood fencing supplies are often less expensive than brick pavers but still provide a timeless, elegant look. An added bonus is the ease of installation! Whether you're a DIY enthusiast or prefer professional fencing and gate suppliers, now is an ideal time to re-fence your home in modern style.
Invest in furniture and accessories that match the style of your home
If you're looking to elevate your home to the next level, investing in furniture and accessories that match the style is a great option. Whether your home reflects a contemporary or traditional look, Adirondack chairs can provide an iconic look that pairs perfectly with patio and garden settings. If you're looking for something more appropriate for cooler weather, a fire pit is ideal as it extends the unwinding time outdoors even when temperatures drop. When furnishing any space, balance is key; bring together pieces that match so you can harmoniously enjoy the final result in your home.
Utilize existing structures like trees, pergolas, trellises, etc.
Creating an outdoor living space can be a great way to enjoy some fresh air and take in the natural beauty of your surroundings. Whether you have a large backyard or just a small deck, you can utilize existing structures like trees, pergolas, trellises, etc., to create cozy and inviting areas that you can use all year. Whether you're entertaining guests or just looking for a place to relax after work, customizing your outdoor area to incorporate these structures will add aesthetic appeal and the perfect spot to enjoy nature at its best.
With these ideas, you can make your outdoor space an inviting, beautiful retreat. The options are nearly limitless and offer something for everyone; consider a vertical garden wall to bring new life and vibrancy to your yard, or take advantage of existing structures like trees and pergolas to create the perfect spot for entertaining family and friends. You can easily change the look of your outdoor space with the right materials, like brick pavers and composite wood as well as furniture pieces that coordinate with the aesthetic of your home.
There's also no need to ever be restricted by the weather when there are cozy heating options like fire pits or outdoor heaters readily available. So stay creative, let yourself get inspired – with a little bit of effort, you can transform raw potential into a stunning outdoor oasis all year long!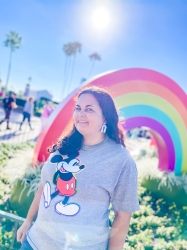 Latest posts by Krystal | Sunny Sweet Days
(see all)