5 Ways To Transform Your Yard Into a Private Retreat
When you live side-by-side and back-to-back to neighbors, it can truly feel like your outdoor space isn't completely private. Whether you want to go outside to sunbathe, meditate, or host an outdoor party with close family, you're going to want a yard that feels secluded, personal, and out of others' view.
Below are some many great ways you can effortlessly transform your yard into a private space you'll come to love.
1. Get a Privacy Fence Installed
One of the most obvious ways to achieve a more private outdoor space would be to install a privacy fence for yard.
Brick or stone fences are going to offer the most privacy from nosy eyes and block the most noise. They're also going to last the longest. Other types of fences may have spaces between panels, and wooden fences tend to get holes that make it easy for neighbors to peek in.
2. Use Plants and Planters to Your Advantage
There's nothing like adding foliage and flowers to your yard to spruce it up. Plants can also be great for the environment as they welcome beneficial insects and birds into your yard.
Apart from adding peace and beauty to your outdoor space, plants and planters can also be used as means of privacy. For instance, well-groomed hedges, tall planter boxes, and vines can help block out wandering eyes.
3. Install Hanging Shade Cloth from Your Patio Covering
Do you have a patio covering in your yard? While they can certainly block rain and sun, what they don't exactly do is block out your neighbors.
The best way to ensure your patio covering adds privacy to your yard is to install a hanging shade cloth from the top of the structure. This way, you can block out some sun while also saying goodbye to noisy neighbors.
4. Consider a Pergola or Gazebo
Pergola and gazebo installation can cost thousands of dollars, but the good news is, they can offer substantial privacy from neighbors. In addition, these beautiful structures can add value to your home, shield you from rain, and block out harsh sun rays. In turn, you can have a more luxurious, functional, private yard.
5. Grow Privacy Trees
Although they're certainly going to take longer than other plants to grow and become established, privacy trees are another excellent option to separate your yard from the view of your neighbors.
Some of the best, lushest privacy trees include Leyland cypress, emerald green arborvitae, and thuja green giant. These plants offer thick foliage, skinny yet tall bodies, and can be grown within close proximity to one another to create a natural fence.
Conclusion
Having privacy in your yard makes sense. However, you may not have the level of privacy you desire. Fortunately, there are ways to get that extra privacy. From installing a fence, using plants or planters, hanging a shade cloth from your patio covering, getting a pergola or gazebo, or even growing tall trees, there are many ways to achieve a private outdoor retreat.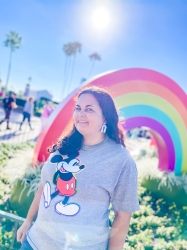 Latest posts by Krystal | Sunny Sweet Days
(see all)