Tips to Reduce Airport Crowds and Queueing
Making travel easier
No matter the time of year, preparing to go to the airport can be a daunting experience. Whether you're travelling alone, with family, or people more vulnerable, learning how to navigate the airport and avoid large crowds takes time.
Although there isn't a lot that you can do to improve the situation at the airport, taking these steps will ease your stress and anxiety while you're at the airport. So, next time you are planning a well-deserved holiday, a quick city break, or work travel, remember these tips.
1. Avoid checking in large bags
It's no secret that flying commercially can be a hectic experience. To avoid extra stresses which often arise when you do, flying to your destination via private jet can make your travel experience much more of a breeze. A private jet charter means you don't need to worry about long lines and being stuck in cramped spaces surrounded by noisy and stressed passengers. Instead, you'll be able to relax in a private lounge, and enjoy spending quality time alone or with family. It is also a much more comfortable way of travelling, offering more amenities and larger seats. In most cases you'll be able to wander around the cabin and enjoy the extra room.
2. Avoid checking in large bags
In some cases, it is not always possible to cut down on the amount of luggage you take for a trip – especially if you are travelling with your family. However, people often over-pack for a trip, taking far too much yet only wearing half of the clothes they bring with them. If this sounds familiar to you, consider how you can be more practical with your packing next time. Today, there are lots of options online to make packing easier. With vacuum-packed bags or travel bags, it will help to get more in your suitcase whilst keeping it tidy. If you don't need a large suitcase, consider taking on a carry-on bag. You can buy carry-on bags that match the requirements needed for each airline. This means you won't have to waste time in queues for baggage check-in and can head straight to security. It also saves you time when you arrive at your destination, meaning you don't have to wait for your suitcase to arrive on the other side.
3. Research fast-track options
If you are flying commercially and want to skip long queues, the quickest way to do so is by going through fast-track. Here, you'll get priority over other passengers. In some airports, fast-track is usually not expensive. It means you can go through check-in, pass the security check, and board the flight without any added stress. If you decide to take the fast-track route, make sure you check the airline's options ahead of time, and book your slot in advance. Fast-track tickets are limited, and you will be unable to purchase one within 24 hours of your flight. At the airport, communicate with members of staff to make sure you're getting the true benefits from your fast-track option.
4. Organise your liquid bag ahead of time
We've all been there. We rush to get packed, get our luggage in order, only to arrive at security and remember we didn't organise our liquid bag! What follows is a frantic search so you can put your liquids in a bag without losing your place in line. In order to avoid this added stress, have your liquids ready ahead of time. Don't forget about the liquid allowances and make all of your belongings suit the bill! You don't want any of them to be thrown away before the trip because they're being too big.
5. Know the airport layout
Sounds quite simple, but it will really help you on your trip to make sure you aren't stuck in even more queues. At some airports, more commonly seen in international airports, once you have checked in through security, there will be another formality where your body gets scanned for border security. This process isn't particularly long, but the queues for it can be. After that, when you are heading to your designated departure gate, there is the potential to be greeted with another long queue. If you are travelling from an international airport, often you will have to go through passport security before you can go to your gate. After that, there is a different queue that you can join when you are boarding the flight. With all of this in mind, don't want until the last minute to go to your gate, as in the busier cases, passport control can take a maximum of 30 minutes.
Final thoughts
So, with these tips at your disposal, hopefully your next airport experience will be a less stressful one. You can't control what goes on around you at the airport, but with these steps, you'll be able to deal with it head on, with no stress involved!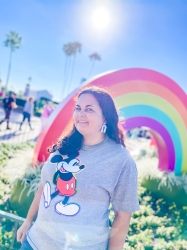 Latest posts by Krystal | Sunny Sweet Days
(see all)