Spending Holidays In Santa Monica? Here's How To Have Fun
Spending the holidays somewhere new can be a lot of fun, but it can also be a little worrying. It's hard to know which of your holiday traditions are going to be easily adapted to your new location and which are going to have to be released. You might be wondering if you can get the food you're used to having or find somewhere to participate in the activities that you love. The following will explore some of the ways you can celebrate the holidays in one location in particular—Santa Monica.
Visit The Beach
Perhaps you've never been able to take a stroll down to the beach in the wintertime before without having to bundle up in six layers of sweaters, but in Santa Monica, you can. One of the most iconic elements of Santa Monica, the beach is a wonderful place to be any time of day but is especially breathtaking around sunrise or sunset. You and the family can have hours of fun building sandcastles and relaxing as the sound of waves lulls everyone into a dreamy state and soaking up all that vitamin-d rich sun. This is also an excellent location for any children you're traveling with to get out lots of energy. Consider bringing some snacks and turning it into a picnic.
The Cove Skatepark
You likely have a visual image of this skate park without realizing that you do. This is the quintessential skater hangout in Los Angeles and has appeared in countless movies because of this. If children (or any adults) have gotten a new skateboard for Christmas, why not take it out for a spin in this iconic location? Even if you're not a skater yourself, there's something so uniquely California about this location that it has become one of the most popular things to do while visiting Santa Monica. If you're a beginner, that's okay too. The atmosphere is friendly and welcoming to everyone, and there are 20,000 square feet of the park, so you should be able to find a space to play around without interrupting some of the more expert skaters.
Will Rogers Park
Will Rogers Park is a 186-acre state-funded park nestled between mountains. This park has everything nature lovers adore: hiking, horseback riding, and ranch tours are just the beginning. This is a fantastic place to take some truly stunning family photos and to get away from the chaos of the city for a few hours. What is more reflective of the holiday spirit than wandering through nature with your family? Nothing.
Biking
Santa Monica has one of the loveliest bike paths you can find. There are 26-miles of beach views starting at the Santa Monica pier. You'll be able to rent bikes for you and whomever you're traveling with and enjoy some light, mood-boosting exercise as you take in epic ocean scenery. This might be the best way to enjoy that delightful Santa Monica weather that can be experienced all year round. If you want to know more about the sights you're passing, you can always take a biking tour where you'll be taught all about the history and culture of Santa Monica.
Heal The Bay Aquarium
There is something truly mystical about the creatures that live beneath the water. Most of them we never get to see up close unless we're watching a wildlife documentary. There are over 100 local species to be found in the Heal The Bay Aquarium, plus tons of hands-on activities for kids. You can participate in animal feedings and discussions hosted by scientists and witness the spectacular force of nature that are octopi, sharks, and stingrays.
Santa Monica Farmers Market
For anyone who loves to cook for the family as part of their holiday traditions, the farmer's market is a wonderful place to begin. Provided you have accommodations that allow cooking, you can find all sorts of fresh, local, and vibrant produce as well as hand-made crafts, spices, and sauces.
The above list is only the beginning. Santa Monica has dozens upon dozens of activities for every type of interest. You can spend an afternoon at the Trapeze School New York (Los Angeles location), visit the cheerful Pacific Park Amusement Park, watch talented street performers on the Third Street Promenade, climb the Santa Monica stairs for a scenic view, take a surfing class, or shop in Santa Monica Place. Of course, given that it is the holidays, you want to be mindful of booking ticketed events in advance, making reservations ahead of time, and tipping those who are working a little extra.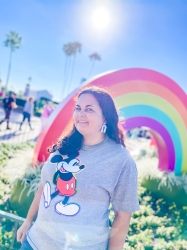 Latest posts by Krystal | Sunny Sweet Days
(see all)